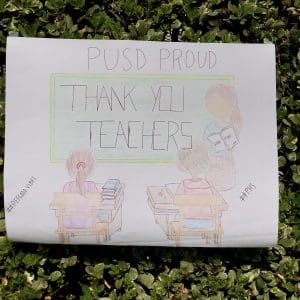 By Nancy Carol Inguanzo | PEF Volunteer & Engagement Manager
Pasadena Educational Foundation has been working hard to launch new initiatives to keep our community connected and help high school students meet their service requirements during California's Stay At Home directive. Our first virtual-based volunteer program is focused on Good Vibes. But what is a Good Vibes Volunteer?
Each week Good Vibes volunteers receive a Good Vibe Message. Their job is to make that message their own. Be it a poster, sidewalk drawing, or a video – all we ask is that volunteers use their creativity and share their positive messages with the community. Messages can be made by an individual high school student, a school community, or even be wonderful family projects. There are no age limits or requirements. Just bring enthusiasm! And don't be fooled by good vibe simplicity. This act of good will involves a lot learning – from collaboration to community leadership to creative interpretation to tech skills.
Good Vibers made their first official posts last week – special "Thank you" messages for our PUSD teachers and staff for Teacher Appreciation Week. Principals from Altadena Arts Magnet and Madison Elementary shared Good Vibes Stories about how they celebrated.  PEF staff put together short videos of the moving and heartfelt messages their teachers received from students. It was obvious how much their students miss them.
But there was more…
The Pasadena Educational Foundation and the United Teachers of Pasadena mailed a $25 gift certificate from Chiquita Bonita Restaurant to more than 900 teachers, counselors, librarians, nurses, speech pathologists, and psychologists. And guess what? We have received many good vibes back from members of PUSD staff, too.
"Thank you for the gift certificate and recognizing the hard work all the teachers are doing and do on a daily basis for our kids…I appreciate your thoughtfulness." 

– Dianne Cahir, Willard Elementary

"Just a note of thanks for the Chiquita Bonita Gift Certificate! What a great and happy surprise! Much appreciated!"

– Debra Holland, Roosevelt Elementary
We're happy to share some of these wonderful #PUSDproud moments with you. After all, who doesn't like picking up good vibrations? Enjoy!
Want to share Good Vibes? Join the Good Vibes Team.