Everywhere you look, computer science is shaping the future. It's redefining all sorts of industries– 3D animation, music production, fashion, business, medicine, astronomy, and many more. Computer science also powers the technologies we use to communicate, learn, and have fun every day.
The App Academy is a four-year computer science pathway program at Pasadena High School made possible by a partnership between the Pasadena Educational Foundation and the Pasadena Unified School District.
App Academy students learn computer science and computer programming, and use these skills to create websites, games, and more.  In the past, App Academy students have designed and built projects like:
A personal website to showcase original photography work
A thought-provoking 2D video game that tells a story about social justice
A light-up LED senior prom dress programmed to flash in intricate patterns
Students have specialized computer science courses that help them learn problem solving skills that can create things with real-world impact. Students like App Academy because they get to be creative, learn a valuable skill, and bring their own ideas to life.
Featured Video:
Meet Our App Academy Teachers & Students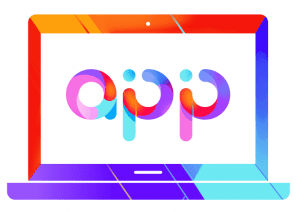 The App Academy experience includes:
Learning how to code – no experience necessary.
Designing and building websites, games, and applications that can have real-world impact.
Visiting workplaces where people are using computer science to change the world, and talking with software engineers, designers, and executives about their work.
Computing occupations are the #1 source of all new wages in the US.
App Academy Courses
App Academy is a four-year progression of courses. Each year, students build upon their existing knowledge to build increasingly complex and exciting projects.
Web Development I
9th Grade
This course teaches the fundamentals of programming. Students create websites, 2D games, and simulations using HTML, CSS, and JavaScript.
Web Development II
10th Grade
In this course, students build upon their web development knowledge, creating more complex games and client-server applications in JavaScript.
Mobile Development
11th Grade
Juniors learn Android app development and object-oriented programming in Java, and have the option of preparing for the AP Computer Science exam.
Senior Capstone
12th Grade
Seniors start their year with an introduction to computer hardware, then work on capstone projects to showcase what they've learned in App Academy.
of new STEM jobs are in computing
---
What is Computer Science?
Computer Science is the science of using computers to solve problems. Learning computer science empowers individuals to design solutions to problems that make a real difference in people's lives.
Computer science is about so much more than programming— it requires critical thinking, problem solving, creativity, and teamwork. In addition to being used in the technology sector at companies like Google, Facebook, and Microsoft, computer science plays a huge role in all sorts of other industries. From business, to medicine, to engineering, to politics, to art— computer science is everywhere!
Support innovation in our schools!
App Academy is one of the many ways the Pasadena Educational Foundation helps to create a vibrant and enriching educational experience for all public school children in Pasadena, Altadena, and Sierra Madre.