The Whole Child
The Pasadena Educational Foundation is committed to supporting the health and fitness of all our PUSD students. At the elementary level, we help pay for buses to take every third grader to learn water safety and swimming skills in the Rose Bowl Aquatic Center's PUSD swim program. We bolster access to healthy living resources by supporting four Healthy Start Family and Community Centers, and we partner with Pasadena Community Gardens Conservancy to teach healthy living through nine edible school-community gardens, a master gardener, and farm to table programs. We help fund an asthma nurse to monitor all students with asthma, and we are invested in helping our middle and high schools build their athletic programs and facilities, including the recent renovation of the Muir baseball field.
Our school community garden program is growing and providing outdoor classroom space for students to learn about nutrition, healthy eating, science, and other subjects. USDA named PUSD a model program for management, innovation, and impact in promoting healthier lifestyles.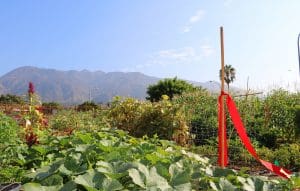 School Community Gardens
The Pasadena Educational Foundation is working with community partners to grow our school-community…
Support Healthy Minds and Bodies
Health & Wellbeing programs  are one of the many  the Pasadena Educational Foundation helps to create a vibrant and enriching educational experience for all public school children in Pasadena, Altadena, and Sierra Madre.