Tony Gordo, our Programs Coordinator and now 3D Printing Manager was at our 3D Printing Design Workshop at John Muir Early College Magnet High School and gave us an impromptu tour over Zoom. Thank you to all who have supported this effort through our Response Fund. Here's how we make the protective face shields…
To date we have printed and distributed more than 400 face shields to Pasadena Unified essential staff including food service workers, janitors, healthcare workers, and volunteers. Volunteers have helped deliver 150,000 Grab & Go meals to students and families.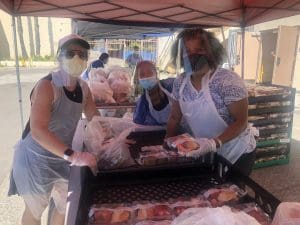 About our 3D Printing Design Workshop
As news across the globe pronounced a shortage of protective equipment for critical workers, the Pasadena Educational Foundation turned to its longstanding 3D printing program in Pasadena Unified (PUSD) to focus on solutions.
Soon after schools closed and distance learning went into effect, staff collected 18 of the 3D printers from various PUSD schools and brought them all to a new 3D Design Workshop at John Muir High School Early College Magnet, known for its popular Engineering and Environmental Science Academy and innovative 3D printing program.
Support Our Response Fund and Help Us Create & Distribute Protective Face Shields for Critical PUSD Workers and Volunteers