Creating Powerful Partnerships
The Pasadena Educational Foundation builds dynamic community partnerships to support our Pasadena, Altadena, and Sierra Madre public schools. We leverage the expertise and resources of partner organizations, community members, sponsors, and individual donors to impact the lives of every student, at every school, every day.
Partners provide a variety of educational resources for our students from contributing furniture and books, to serving as classroom mentors, to donating funds and expertise to upgrade a baseball facility or create a Pre-Kindergarten dance program.
Some of the ways local companies and community members are involved include:
Being guest speakers or leading a lesson in the classroom
Offering field trips and job shadowing experiences
Contributions of classroom materials and technology
Donating funds for programs in STEM, health and wellbeing, athletics, and the arts.
Successful Partnerships Start Here
PEF is where the community and our school district meet. We match partner resources and goals with the needs and priorities of the schools. By looking at our partners impact goals we have been able to develop long-lasting collaborations that make a real difference to the student and to the partner.
Want to make an impact on our schools?
Contact us here!
A few ways to get involved:
Reading tutors
Guest speakers
Internship opportunities
Be a Principal for a Day
Adopt-a-School
Volunteers
Donations 
…and more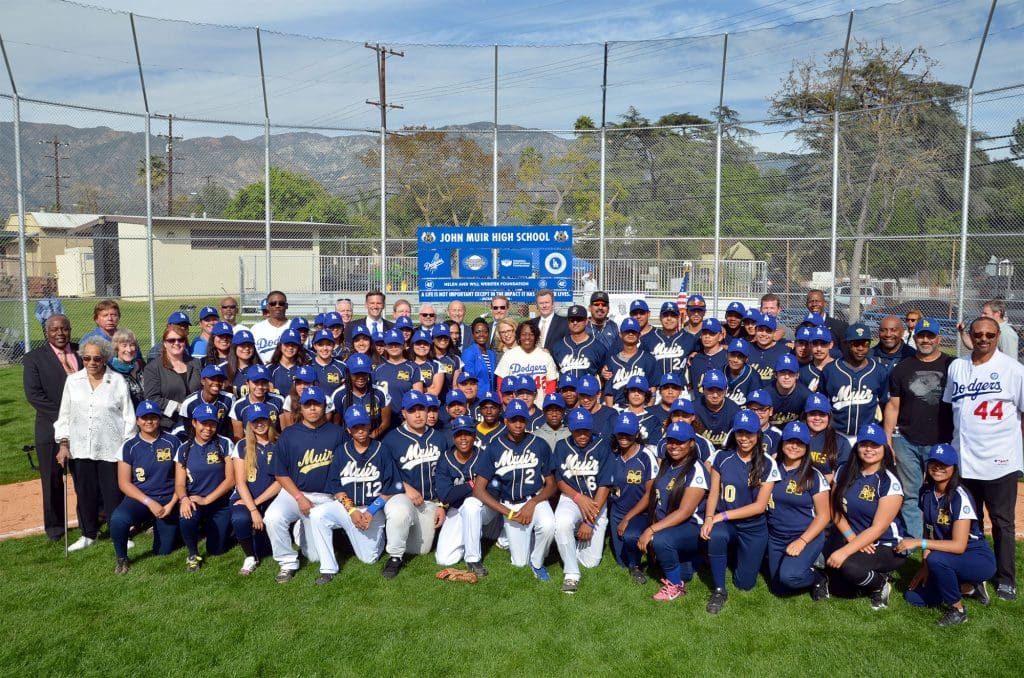 Partnerships Honoring an Alumni Legend
Stadium 42 at John Muir High School
The John Muir High School baseball field was transformed into the renamed Stadium 42 thanks to the work of dynamic partnerships. The $260,000 project was made possible by the Dodgers, Baseball Tomorrow Fund, the Helen and Will Webster Foundation, Nick English, Tournament of Roses and the Pasadena Educational Foundation. The Dodgers and The Los Angeles Dodgers Foundation (LADF) managed the reconstruction of the field. Field improvements include a completely rebuilt field with new side and outfield fencing including new foul poles, a blue windscreen and yellow top cap in the outfield. Backstop and dugout fencing were repaired, new metal dugout roofs were installed, the entire field was re-graded and new sod and infield mix were put in. Irrigation was adjusted to new grade and new bases and a bullpen were installed in addition to a new LED scoreboard and signage. Eric Hansen, Dodger Head Groundskeeper, managed the donation of the following: Turface provided a pallet of professional mound clay and three pallets of conditioner, Covermaster supplied a home plate cover, pitching mound cover and bullpen covers, Midwest Rake & Kochak through Ewing Irrigation donated a field hose, nozzles, and field maintenance tools, Syngenta donated one case of Primo Maxx and Toro provided a Reelmaster 3100 mower.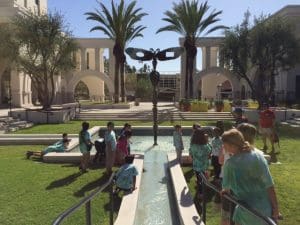 My Masterpieces: Exploring Art in My Community
Within a few miles of every PUSD school are some of the most remarkable cultural resources in the nation. There are great works of art spanning thousands of years of creative expression from cultures around the world in the collections of the Norton Simon Museum, Huntington Library, and USC Pacific Asia Museum. Pasadena's rich creative legacy is represented by the Pasadena Museum of History, Pasadena Museum of California Art, The Gamble House, and the city's public art collection. The Armory Center for the Arts, Kidspace Children's Museum, and Side Street Projects are recognized innovators in arts education.
Before My Masterpieces was started in 2008, some PUSD students visited museums or had artists in residence in their schools, while other students received nothing at all.  By aligning these resources together in a carefully planned, sequential seven-year visual arts curriculum, PEF, PUSD and our partners are able to  engage all 9,000 K-6 students and teachers every year, a remarkable ongoing achievement that would not otherwise be possible.