About Us
Supporting Excellence in the Public Schools of Altadena, Pasadena, and Sierra Madre
At the Pasadena Educational Foundation (PEF) we believe strong schools build strong communities and strong communities build strong schools. For almost 50 years, we have been committed to building dynamic community partnerships to support our public schools. Being a vital part of our community enables us to provide essential resources and enrichment opportunities to every public school student in Altadena, Pasadena, and Sierra Madre.
Our Mission
The mission of the Pasadena Educational Foundation is to support, enhance, and supplement the programs, initiatives, and priorities of the Pasadena Unified School District.
Vision
Every PUSD student will receive an excellent education so that each may reach his or her full potential and become a joyful and fully engaged member of our democratic society.
Join Your Community
There are many meaningful ways for members of our community to join with PEF and support our schools.
GIVE: Donate, honor a teacher, or memorialize another with a gift.
VOLUNTEER: Join a PEF committee, be an ambassador, help at a school.
PARTICIPATE: In events, community meetings, and activities.
SPONSOR: An event, a program, or grants to teachers.
PARTNER: Partners collaborate with PEF to provide expertise, funding, resources, and people power to help make programs and activities happen.

LEAVE A LEGACY: Leave a permanent mark on our community and a lasting legacy for our schools with a planned gift to PEF.
Contact Us
351 South Hudson Ave, RM 153
Pasadena, CA 91101
Main Number: 626 396 3625
Fax: 626 577 6733
Email: pef@pasedfoundation.org
"The support that the Pasadena Educational Foundation provides our schools is essential to keeping our momentum going. Our schools are stronger today and will be even stronger tomorrow thanks to this outstanding partnership."
—Dr. Brian McDonald
Superintendent, Pasadena Unified School District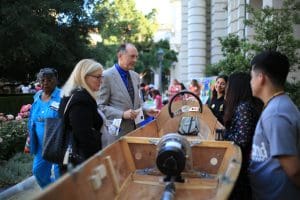 The Pasadena Educational Foundation builds dynamic community partnerships to support our Pasadena, Altadena, and Sierra Madre public schools. We leverage the expertise and resources of partner organizations, community members, sponsors, and individual donors to impact the lives of every student, at every school, every day.
Partners provide a variety of educational resources for our students from contributing furniture and books, to serving as classroom mentors, to donating funds and expertise to upgrade a baseball facility or create a Pre-Kindergarten dance program.
The Pasadena Educational Foundation (PEF) is a 501c(3) nonprofit organization, founded in 1971, to enhance educational programs in the Pasadena Unified School District (PUSD).
Donations made to PEF are tax deductible to the full extent of the law. PEF's staff and its board of directors provide oversight to ensure that designated gifts reach the appropriate recipients.
Tax ID# 23-7149451