What Is: My Masterpieces
The Pasadena Educational Foundation's My Masterpieces: Discovering Art in My Community program is a wholly immersive experience that allows every Pasadena Unified School District elementary student to grow and nurture their creative expression over the first seven years of their education.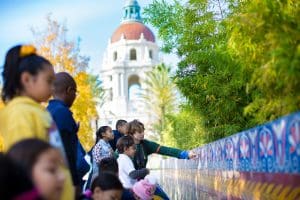 My Masterpieces is the result of the partnership between the PUSD and several of Pasadena's excellent cultural institutions, providing every PUSD student from kindergarten to sixth grade with the opportunity to visit each institution with a guiding artistic curriculum unique to My Masterpieces.
Every student in each grade goes on a field trip with their class to a different cultural institution to reflect upon various questions about art. These themes progress over the years, building upon previous visits.
Where does the journey take students?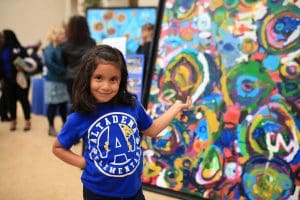 Kindergarteners begin their My Masterpieces journey at Kidspace Children's Museum, studying patterns in nature, science, and color. They are prompted to think about how observing nature influences the way we view art—an idea that echoes across multiple disciplines.
First graders head to The Huntington Library, Art Museum, and Botanical Gardens, to consider how learning about art impacts how we perceive the world. From landscapes to portraits to sculpture, they are prompted to think about how artists choose to convey their message or tell their story through different media.
---
Second graders foray onto the streets of Pasadena itself, embarking upon a city walking tour (with parent chaperones, of course!) beginning at City Hall, to discover how stories are told through our community. Students go home with a guide book, which they can use to lead their parents on the tour, too. This local adventure is a collaboration with the City of Pasadena and Side Street Projects, who visit every single second grade class to create their very own public art project after the field trip.
---
T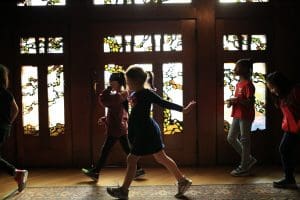 hird graders survey the Gamble House to see how architects explore both form and function, studying art through the lens of architecture and getting a dose of local history. This visit is especially exciting since seventh and eighth grade junior docents conduct tours for the third graders. Many of those junior docents fondly remember their own visits when they were third graders and are excited to be a part of the tradition.
Note: For Grade 3, Descanso Gardens is now piloting a new field trip/classroom lesson combination in addition to the Gamble House.
---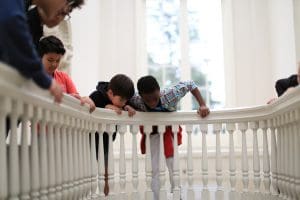 Fourth graders think local at the Pasadena Museum of History, discovering why artists of all kinds have historically been drawn to California. Just like their visit to the Gamble House, there are also junior docents who guide their younger peers around the Fenyes Mansion and Estate as they consider the appeal and natural beauty of California. Fifth graders take two trips: one to the Armory Center for the Arts and one to the Norton Simon Museum. At the Armory, they experience a contemporary art exhibition and experiment with art materials to make their own work, while at the Norton Simon students focus on more classical pieces. Their guiding question revisits in greater depth the theme from first grade: how do artists use different media to best convey a message? The fifth graders then create a piece in which they can choose the medium that best suits the story they want to tell.
---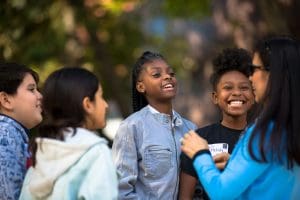 To culminate their visual art journey, sixth graders tour the Pacific Asia Museum and examine how societies interact with each other. This final module of the program ties into their ancient civilizations curriculum, as they map the voyage along the Silk Road, tracking the travel of not just goods and materials but art and politics as well.
---
The ongoing goals of My Masterpieces are to:
Engage all PUSD K-6 students in integrated curriculum that engages them with eleven museums and visual arts organizations to teach them creative skills and content knowledge and develop their critical thinking and interpretive abilities.
Increase the knowledge and ability of teachers to incorporate the arts into everyday teaching and learning in the classroom.
Encourage teachers, students, PUSD families, and the broader Pasadena community to take advantage of these resources by reducing barriers to participation.
PBS Inside California Education:
My Masterpieces – A Cultural Learning Journey
Did you know?
Parents in grades K-6, did you know that through the My Masterpieces Program your family can visit museums and cultural centers for free? Each of the 18 elementary schools in PUSD have a set of passes that can be checked out to visit places like: The Huntington Library, Art Collections and Botanical Gardens; The Gamble House; Norton Simon; and Kidspace!
Contact your child's school and speak with the Office Manager to learn more about how to check out these FREE passes.
My Masterpieces has four core components:
Classroom Curriculum
A classroom-based curriculum that integrates art with other core subject areas like language arts, math, social studies, and science
Field Trips
At least one field trip to a local museum or arts organization.  Field trips build upon what was taught in the classroom
Teacher Training
Professional development opportunities for teachers
Family Access
Family access points, such as free passes, school-wide memberships, or free "My Masterpieces Days"
My Masterpieces and Open Stage are two of the most important programmatic accomplishments of Pasadena Educational Foundation, and reflects PEF's vision to leverage the community's remarkable resources to benefit all the students in PUSD.  They also reflect the strong collective effort of the PEF, PUSD, the arts community, and philanthropic community which has restored arts education as an integral part of teaching and learning in every school in the district.
STUDENT OUTCOMES INCLUDE:
Students develop perceptual abilities by studying dozens of works of art from a variety of cultures and eras, both in the class and during the field trips.
Students learn art-making skills by working with a range of materials and creating their own works of art in different media and styles.
Students acquire an understanding of the ways in which art can reflect the time and place of its creation, and refer to artwork they have seen when studying other subjects such as history.
Students gain the basic content knowledge to make their own informed opinions about art and the vocabulary to articulate their ideas coherently.
Students were very engaged with the information presented. They felt a connection to the artist because she was a Pasadena resident who went to one of our local schools! They were able to see primary sources from the artist.

Jose Guzman, 5th grade teacher

It made my students more knowledgeable about public art. They will be excited to see their public art in the school, once it is completed. I think they will be more inspired to create art.

Allison Yee, 2nd grade teacher

Students were able to view and critique art in a meaningful way and with an understanding they did not have before.

Stephanie Norton, 4th grade teacher

They enjoyed learning about the people who lived in the [Gamble] house and I kept reminding them to imagine being a child and growing up here.  How would you feel?  What would you be wearing, eating, etc.?

Deborah Kostich, 4th grade teacher

This is an excellent experience for my special needs students to get to go out into the community and learn in an experiential environment.

Jamie Munro, Kindergarten teacher
Funding for My Masterpieces is generously provided by Individual donors from the community, our My Masterpieces Art Partners and the following:
Ralph M. Parsons Foundation
John and Beverly Stauffer Foundation
Helen and Will Webster Foundation
Help keep arts in our schools thriving!
My Masterpieces is one of the many ways the Pasadena Educational Foundation helps to create a vibrant and enriching educational experience for all public school children in Pasadena, Altadena, and Sierra Madre.