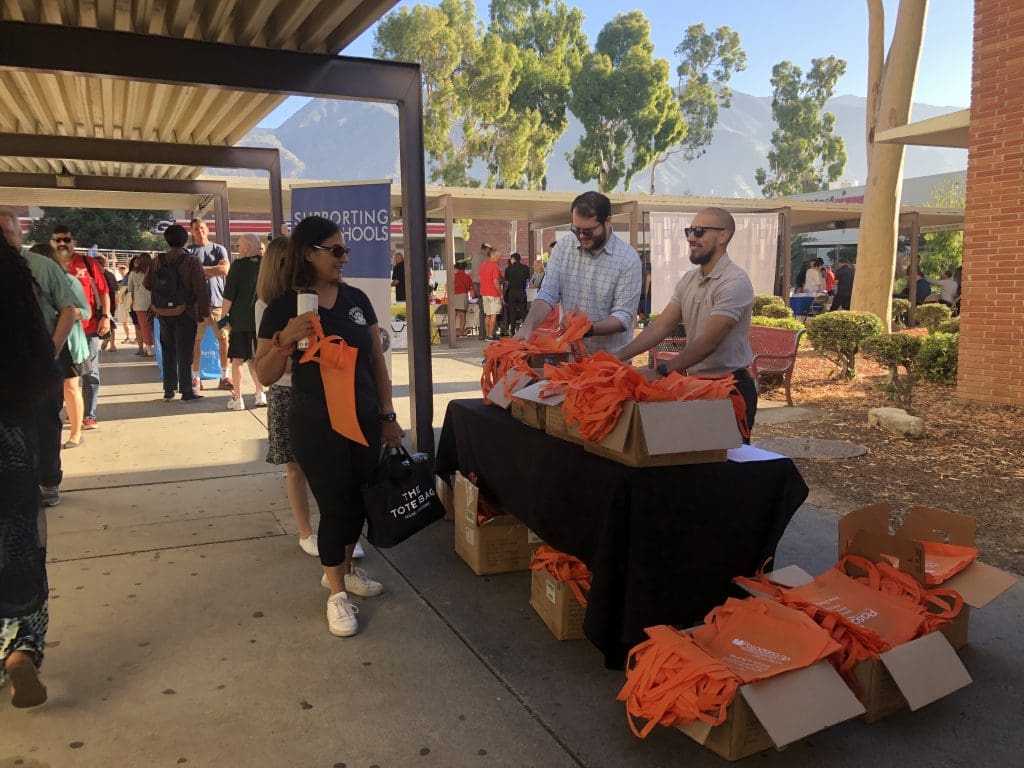 Pasadena Educational Foundation, with support from the California Credit Union and Corner Bakery, rolled out the red carpet to welcome back the teachers and staff of the Pasadena Unified School District as they begin preparations for the 2023-2024 school year. The district expects approximately 14,000 students to return to school on Monday, August 14.
Held at Pasadena High School, this PUSD Welcome Back marked the first time it's been held in-person in three years. Approximately 2,200 PUSD employees were treated to a rousing performance by the PHS drum line and cheer squad as they gathered for breakfast, conversation, and festivities. The remainder of the event was dedicated to recognizing outstanding achievements and offering inspiring professional development opportunities.
Outstanding Achievements Recognized:
PUSD proudly honored the Student Think Tank with the Service Award of the Year, lauding their commitment to student success and agency. Superintendent's Awards were given to Helen and Will Webster Foundation and Drs. Jacqueline and David Jacob for their powerful impacts on furthering the learning of PUSD students. Charlene Tucker, Principal of Field Elementary, was awarded Principal of the Year for her transformative leadership, while Marion Yamada of Hamilton Elementary received Teacher of the Year honors for her engaging teaching methods, Custodian Rogelio Macias of Muir High School, was named Classified Employee of the Year for his dedication to maintaining a safe and clean learning environment for students.
Empowering Professional Development:
Following the awards ceremony, PUSD teachers and staff participated in a dynamic day of professional development, featuring innovative workshops and thought-provoking discussions. Distinguished speakers and facilitators provided fresh insights and tools to inspire growth and excellence in PUSD classrooms.
Patrick Conyers, Executive Director of Pasadena Educational Foundation, emphasized the importance of the event, stating, "Today we celebrate excellence and invest in our educators and staff. Their dedication shapes our students' futures, and we are committed to supporting their growth."
PUSD school board members, Michelle Richardson Bailey, Kimberly Kenne, Patrice McKinzie, and Dr. Yarma Velázquez, were on hand not only to honor the award winners, but to champion all PUSD teachers and staff, underscoring the collective commitment the community has to foster a thriving learning environment.
As the PUSD community embarks on a new year, heartfelt gratitude was expressed by Interim Superintendent, Dr. Elizabeth Blanco, for the dedication of teachers and staff. Dr. Blanco thanked sponsors for playing an integral role in bringing this event to life, one which celebrates educational excellence and fosters a brighter future for all PUSD students.