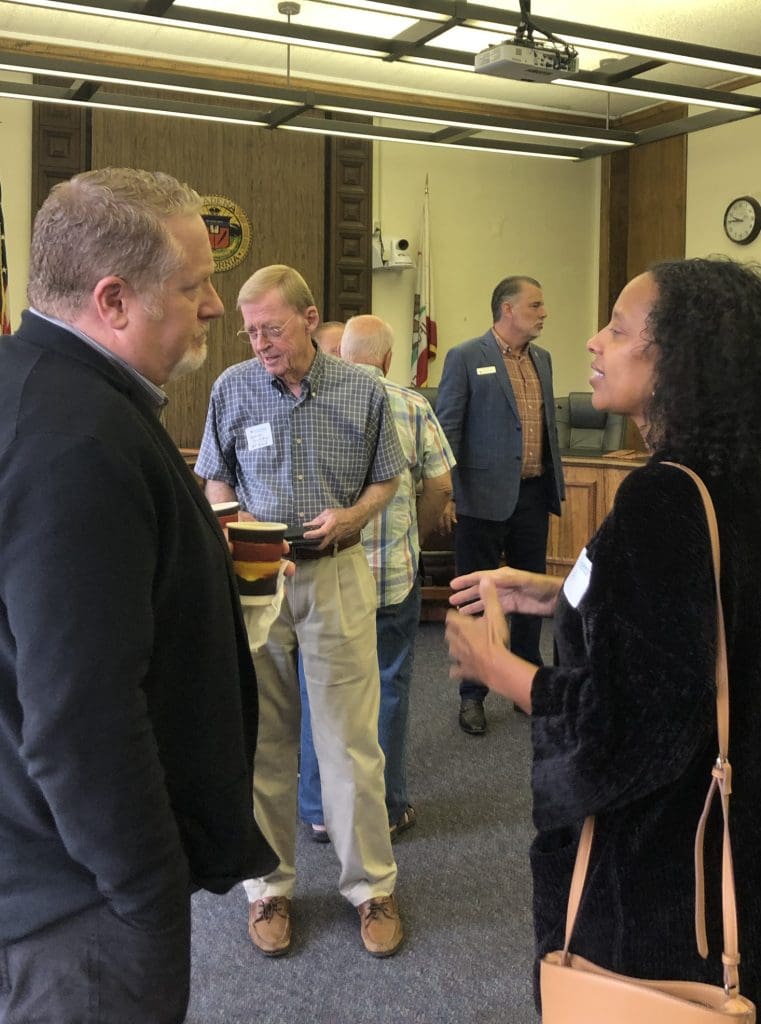 Last Friday morning Pasadena Unified School District Education Center was buzzing with excitement and enthusiasm as community partners gathered for the Pasadena Educational Foundation's (PEF) Community Engagement Mixer. This event was a unique opportunity for PUSD administrators, educators, and community partners to come together, share their experiences, and strengthen their commitment to the students of Pasadena.
The event featured distinguished PUSD administrators – both familiar faces and those that are new to the district – who shared compelling personal stories of their journeys into public school education. Ella Farinas – STEM Coordinator, Reyna Uka – Magnet Schools Coordinator, Brian Stanley – Student Wellness & Foster Youth Director, Manuel Carrasco – Facilities Director, and Sergio Canal – Chief Human Resources Officer opened up about their motivations and aspirations in the service of our local public school students.
The event was not only an opportunity for the Pasadena Educational Foundation and PUSD administrators to share their stories but also for community partners to build stronger relationships. These partnerships are instrumental in providing resources, support, and opportunities that enrich the educational experience for students across the district.
Key community partners were in attendance, including representatives from the African American Parent Council, the Clergy Community Coalition, PACTL, Young & Healthy, Pasadena Community Foundation, Pasadena Foothills Association of Realtors, Pasadena Education Network, PTSA First District Council, Boys & Girls Club of Pasadena, and members of PEF's board of directors.
"It was a pleasure connecting with our partners at the mixer," said Interim Superintendent Elizabeth J. Blanco, Ed.D. "It was an opportunity to strengthen and create connections to work collaboratively to support students in PUSD. I am deeply appreciative of the work of the Pasadena Educational Foundation and their contributions toward the success and well-being of our students."
Del Lile, Pasadena Educational Foundation Board VP of Community Engagement, also expressed the importance of the gathering: "PEF's Community Engagement Forums have grown to be an impressive gathering of community leaders who build relationships, exchange ideas that lead to new collaborations, and gain insight into local and national organizations contributing to excellence in the PUSD community. Our strength is bringing together educators, business leaders, activists and non-profit organizations to create a synergy that we all benefit from."
Special thanks to everyone in attendance! You play a pivotal role in fostering a sense of community, shared purpose, and commitment to the well-being of Pasadena's public school students.