by Marleni Jimenez, PEF Development Manager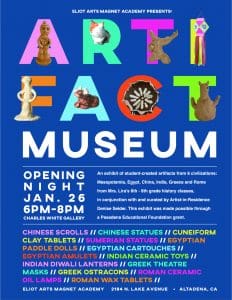 We know that not all superheroes wear capes. And when our world was flipped upside down, we witnessed the tenacity, steadfast commitment, and creativity of our teachers as they worked to ensure that our students continued to learn. As I walked into the opening day of the Ancient Artifacts Museum Exhibition at Eliot Arts Magnet Academy, I could not help but feel a great sense of pride.
During the 2019-2020 school year, Bethel Lira applied for a PEF Teacher Grant. She envisioned her classroom transformed into a student-made museum, lined with artifacts from five historical periods: Mesopotamian, Egyptian, Chinese, Greek, and Roman. The project would instill in her sixth-grade history students a sense of how archeologists and historians construct and depict a past culture and people through examining the physical objects that remain in the world. Then, in March 2020, our world changed forever. One thing did not change, though: Bethel's determination to complete and expand this project.
In the 2020-2021 school year, it became clear that this project was more important than ever. Luckily, Bethel still had funds available to continue this project with her new set of sixth grade students. The project provided hands-on learning that offered students an alternative way to engage with the curriculum. During each unit, one of five class periods was responsible for creating historical artifacts for the gallery exhibition. This project kept Bethel's students excited and enthusiastic when reading and writing were not as captivating means of studying history.
Watch Grand Opening Video!

Now, during the 2021-2022 school year, students from all three years were able to see their projects come to life. With the help of Artist-in Residence Denise Seider, more than 350 students not only created these artifacts but also played a role in putting the exhibition together. As I stood there looking at all these amazing art pieces, my heart overflowed knowing that this was made possible by a PEF Teacher Grant that I am fortunate enough to oversee. The amazing talent of our students always blows me away. As PEF celebrates 50 years, I am filled with pride that our Teacher Grant program has been around for nearly the same amount of time. I can't wait to see all the wonderful projects from this year.
Museum of Ancient Artifacts
Grand Opening Photo Gallery