…the arts are a source of strength and well-being for communities and individuals, and can open doors to conversations that address complex issues of our time…"
NEA Acting Chair Ann Eilers
ArtCenter College of Design Awarded National Endowment for the Arts Grant to Introduce Design into K-12 Education
Pasadena Unified Teachers Learn Design Skills to Apply in the Classroom and Students Discover New Career Pathways in Art and Design Fields  
Pasadena, Calif. – ArtCenter College of Design is pleased to announce it has received a $30,000 grant from the National Endowment for the Arts (NEA). This prestigious grant was awarded in support of educational courses and mentoring for local K-12 grade level teachers to incorporate design in to learning and dynamically engage students. In partnership with the Pasadena Unified School District (PUSD) and the Pasadena Educational Foundation (PEF), ArtCenter will provide courses exploring a wide range of design strategies to 18 ArtCenter Design Fellows beginning in Fall of 2022 and continue through 2023.
"This recognition from the NEA is a tremendous endorsement of the power of design in our society and how lessons incorporating design have the potential to open new learning pathways for children as well as expand their minds when it comes to career choices," said Paula Goodman, Director of K-12 Programs at ArtCenter College of Design ArtCenter Extension (ACX). "We are happy to partner with the amazing teachers throughout Pasadena Unified."
As ArtCenter Design Fellows, the 18 Pasadena Unified teachers will take ArtCenter Extension's renowned 10-week Design 360º course. A comprehensive overview of the professional design field, Design 360º will introduce the teachers to a wide variety of design disciplines, from spatial experience design to transportation, and features hands-on exercises for participants to expand their knowledge and skillset.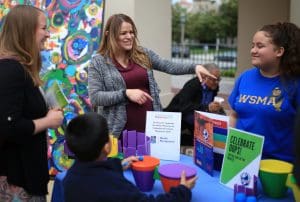 "This is a fantastic opportunity for our teachers to learn design skills from the phenomenal faculty at ArtCenter College of Design and then apply those new tools to their K-12 classrooms," said Karen Anderson, Arts & Enrichment Coordinator/GATE Specialist, PUSD. "The ArtCenter Design 360º for Teachers Fellows Program is also an excellent project to build on our strong foundational partnership with ArtCenter which we are deeply committed to continuing long into the future."
Previously, the Ford Motor Company Fund supported ArtCenter Design 360º for Teachers Fellowship Program, a smaller scale ArtCenter Design Fellows project with PUSD, PEF, and ArtCenter Extension.
ArtCenter has a long history of sharing design theory and practice with educators. For more than 18 years, the College offered the Summer Institute for Teachers in Design-Based Learning to train K-12 educators how to integrate design thinking into their curricula. During that time, program organizers welcomed K-12 teachers, administrators and staff from more than 275 different schools throughout the Southern California region and beyond. The ArtCenter Design Fellows NEA grant project is a natural expansion of the program to serve the K-12 educational community.
One of the most popular Extension classes offered at ArtCenter, Design 360º explores many disciplines including creative direction, entertainment design, environmental design, film, fine art, graphic design, illustration, photography, product design and transportation design. Through individual projects, the selected teachers will have the chance to explore the principles of each of these art and design fields.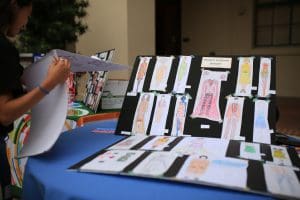 Goodman hopes the ArtCenter Design Fellows program will continue as a long-term initiative working with diverse educational communities. "Our goal is to offer this valuable opportunity to many more teachers in the coming years and improve the program based on thorough measurement of success through surveys and interviews," she said.
Additionally, ArtCenter Design Fellows will meet one on one with ArtCenter faculty to develop lesson plans and innovative curriculum initiatives. Teachers will then implement these lesson plans in their classrooms and work with ArtCenter faculty to refine them as needed.
The ArtCenter/PUSD Design Fellows grant is one of 1,498 awards funded by the National Endowment for the Arts (NEA) totaling nearly $33.2 million. Grants for Arts Projects funding spans 15 artistic disciplines and reaches communities in every state, the District of Columbia, and Puerto Rico.
"These National Endowment for the Arts (NEA) grants underscore the resilience of our nation's artists and arts organizations, will support efforts to provide access to the arts, and rebuild the creative economy," said NEA Acting Chair Ann Eilers. "The supported projects demonstrate how the arts are a source of strength and well-being for communities and individuals, and can open doors to conversations that address complex issues of our time."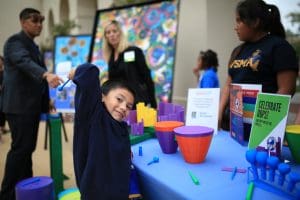 The NEA is committed to equity, access, and fostering mutual respect for the diverse beliefs and values of all individuals and groups. Applications for funding demonstrated a commitment by the arts and culture sector to provide more equitable and accessible pathways for arts engagement.
For more information about ArtCenter Extension, please visit http://www.artcenter.edu/academics/extension-programs/overview.html or call 626 396-2319 or send an email to Paula Goodman at paula.goodman@artcenter.edu.
Grants for Arts Projects
Grants for Arts Projects (GAP) awards reach communities in all parts of the country, large and small, and with diverse cultural and economic backgrounds. There are 1,248 organizations recommended to receive cost share/matching grants ranging from $10,000 to $100,000 for a total of $28,840,000. These awards represent 15 artistic disciplines/fields: Artist Communities, Arts Education, Dance, Design, Folk & Traditional Arts, Literary Arts, Local Arts Agencies, Media Arts, Museums, Music, Musical Theater, Opera, Presenting & Multidisciplinary Works, Theater, and Visual Arts. Applications were received in February 2021 from 1,879 eligible organizations requesting more than $92 million in support.
About the National Endowment for the Arts
Established by Congress in 1965, the National Endowment for the Arts is the independent federal agency whose funding and support gives Americans the opportunity to participate in the arts, exercise their imaginations, and develop their creative capacities. Through partnerships with state arts agencies, local leaders, other federal agencies, and the philanthropic sector, the Arts Endowment supports arts learning, affirms and celebrates America's rich and diverse cultural heritage, and extends its work to promote equal access to the arts in every community across America. To learn more, visit arts.gov or follow us on Twitter, Facebook, Instagram, and YouTube.
About ArtCenter College of Design
Founded in 1930 and located in Pasadena, California, ArtCenter College of Design is a global leader in art and design education. ArtCenter offers 11 undergraduate and 10 graduate degrees in a wide variety of industrial design disciplines as well as visual and applied arts. In addition to its top-ranked academic programs, the College also serves members of the Greater Los Angeles region through a highly regarded series of year-round extension programs for all ages and levels of experience. Renowned for both its ties to industry and its social impact initiatives, ArtCenter is the first design school to receive the United Nations' Non-Governmental Organization (NGO) status. Throughout the College's long and storied history, ArtCenter alumni have had a profound impact on popular culture, the way we live and important issues in our society. To learn more, visit www.artcenter.edu.
# # #
Media Contact:
Teri Bond
Director, Media Relations
626 396-2385
teri.bond@artcenter.edu