Reflections on a multidisciplinary art project at Blair High School
By Sehba Sarwar
After a very long trip, I arrived at the border of Mexico. I went hungry a lot during that time. They put us on a cargo truck to get to the United States border in the truck. I wanted to faint but fought hard and I survived the trip. They passed us from Reynosa to the Rio Bravo in Texas where Immigration caught us. On that day my mother and I were separated by President Trump who put a law into effect that families would be separated. They put me in a very remote place. I prayed that my mother would not suffer and that I would survive in that place. Nelson; birth country, El Salvador
One by one students' names pop-up in Webex boxes on my computer screen. No one turns on their cameras, but in the chat, greetings appear: Buenos dias! and Hola! The only two visible faces are mine and Teresa Garcia's. She is a seasoned educator and lead teacher for beginning English Language (EL) classes at Blair High School's International Academy where in spring 2020 and 2021 I offered a writing workshops for students called Más Puentes Menos Muros / More Bridges Less Walls.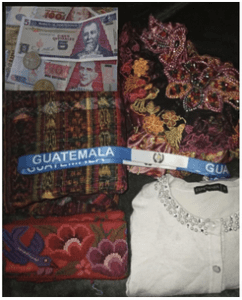 Inheritance from the Past / Herencia del Pasado
"Against all odds I will fulfill my dreams. Contra cualquier obstáculo cumpliré mis sueños." —Apolonia; birth country, Guatemala
The International Academy is one of Pasadena Unified School District's lesser-known programs that serves approximately 200 immigrant, undocumented, and refugee youth, mostly from Central America. The program is designed to serve teens who are new entrants to the United States, and during the height of the pandemic, teachers worked from their home offices, while their students stayed online.
Many teens—like Nelson, who recounts his story above—crossed the US-Mexico border and were separated from their families. For the project–funded in part by a Humanities for All Grant awarded to Pasadena Educational Foundation by California Humanities, fifteen students who had crossed the border over the past year shared their stories by creating poems, stories, visual art, videos, and street banners. Once in-person classes started up, students moved between Ms. Garcia's room and other classes where they learn English, science, math, and social studies courses.
The title of the initiative, Más Puentes Menos Muros / More Bridges Less Walls, was brainstormed in spring 2020, one year earlier by participating students. At that time, students, teachers, and I were collaborating with the Armory Center for the Arts, so students could present a live performance and a visual arts exhibition. The pandemic forced our team to put the project on hold.
When the Pasadena Unified School District restarted the initiative in spring 2021, the workshops were at a smaller scale because classes were online. Pasadena's immigrant teens were able to participate from their homes since the district had issued Chromebooks and hotspots to every student in PUSD.  However, unlike teenagers in another online PUSD workshop that I offered during the same semester—through which I trained students on research and leadership—the International Academy students did not have the choice to turn on their cameras. They participated in discussions by using the chat function because most were crammed in spaces with siblings and family members, who were also online.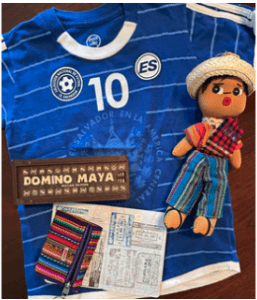 Treasures of the Heart / Tesoros del Corazon
"Freedom gives you the opportunity to transform yourself. La libertad te da la oportunidad de transformarte." —José; country of birth El Salvador
Toward the end of the spring 2021, I was able to meet my students in person when PUSD created a hybrid structure through which students could opt to take turns to attend school. During the workshops, students wrote poems called "Where I'm From," inspired by George Ella Lyon's text by the same title. As I got to know them better, I offered them a poetry prompt in English and Spanish by Emmy Pérez from her book With the River on Our Face (University of Arizona Press, 2016). Pérez's poem, "Not one more refugee death, focuses on losses along the border, and the students read published work about the danger of border crossings, a risk that they had undertaken. The poem opened space for students to write about their own crossings, and their rough drafts were published in an online anthology created by teens in my leadership workshop.
Students created visual art collages that complemented their texts. The images they used—soccer shirts, grapes, apples, dolls, lipstick, tacos, and more—featured objects that made them feel "at home." Each student also generated bilingual text for banners. In October 2021, thanks to PEF and PUSD Parent Teacher Student Association, the banners were strung up on school fences for all Pasadena residents to see.
In addition, most students agreed to video-record excerpts of their stories with their teachers at school. A few, who were shy, used their phones to record in their homes. The Armory team wove the videos together, and all student work was featured on a PUSD website that was launched in October 2021 through the City of Pasadena's ArtNight, PUSD's Arts & Enrichment Office, and the Armory.
The International Academy fulfills an urgent PUSD goal to make all students proficient in English and to integrate them into the school system as well as in Pasadena. Though the pandemic caused the execution of the project to shift over eighteen months, students—who are often invisible—were empowered by sharing their voices with a larger community.
Student videos prepared by the Armory Center for the Arts