"I go to the exhibits every year – they are doing such beautiful things now, Norman would be proud. The exhibits they do each year are doing really well; Norman would be pleased as punch with those!

Carol Schmidt
Celebrating the Norman Schmidt Visual Arts Scholarship in 2020
by Brianna Chu
The Norman Schmidt Visual Arts Scholarship is named after the beloved Director of Art and art teacher, recognized by fellow teachers and students alike for his deep love of art, great smile…and his signature moustache and red socks! He dedicated 47 years to the furthering of art throughout the Pasadena Unified School District (PUSD); and his wife, Mrs. Carol Schmidt, started this scholarship in her husband's name after his passing in 2012, keeping it running every year since.
An art graduate from UCLA, Mr. Schmidt began working for PUSD at the behest of the Head of the Art Department alongside two other art teachers in 1957, teaching art to both teachers and students. After the previous Head's retirement, Mr. Schmidt took on the role, now entitled Director of Art, and continued to not only teach art but also aid teachers in every way he could, especially focusing on creating art exhibits for classrooms, open houses, and district-wide showcases.
"I am super enthused about the students and the art program, and anything i can do to help I am very happy to be a part of." —Carol Schmidt
While he officially retired from his role as Director of Art in 1983, he continued to teach art part-time mostly at PUSD's elementary schools, especially Jefferson Elementary School. Many students remember Mr. Schmidt's vivid storytelling as he would describe and illustrate a scene for them as an example for the day's lesson. He knew that the fundamentals of art were the key to strong artists, and took pride in continuing to teach those core techniques until 2004.
Mrs. Schmidt established the Norman Schmidt Visual Arts Scholarship in 2012, supporting the students and art program. Every year, as she views the exhibitions and enjoys the students' art, Mrs. Schmidt knows that Mr. Schmidt would be very proud – and "pleased as punch!" – to see these beautiful exhibits.
Interested in creating a scholarship fund
or contributing to an existing one?
Contact us at
connect@pasedfoundation.org
2020's six Norman Schmidt Visual Arts Scholarship recipients are: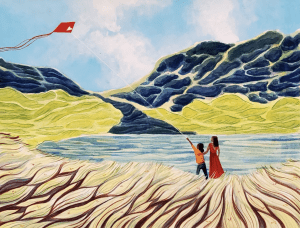 Jaylin Zavala | Pasadena High School
Nominator Ms. Alicia Gorecki has watched Jaylin grow and thrive over several years, watching her progress through multiple art classes as well as two Pasadena High School internships – in mural and the printshop – and other art volunteering opportunities like the local Jackalope Art Fair and the Visual Arts and Design Academy's own culminating shows. Ms. Gorecki praises Jaylin's "talent, passion for the arts, solid work ethic, and welcoming personality" and her "enthusiasm, community involvement, and dedication to her professional, academic, and artistic development." She conducts her own research on artists and techniques, and has taken outside art courses at Art Center College. Jaylin is dedicated to her sketchbook, creating narratives within her illustrations. Her primary media include watercolor, pen and ink, colored pencil, acrylic and digital painting.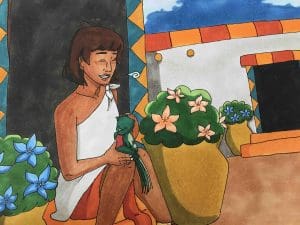 Leslie Orozco | Muir High School
In nominator Ms. Cynthia Lake's words, Leslie is "an accomplished illustrator and designer" who has grown in confidence in both her skills and herself over the years. The cultural history of Leslie's ancestors as well as indengenous people runs through many of her works, and her illustrations, drawings, and paintings "seamlessly integrate spirituality and contemporary themes of women's rights." She incorporates significant historical and cultural issues into her artworks, with a focus on indigenous women, using vibrant colors, patterns and textures to tell a story that engages her viewers. Leslie remains humble even in the face of admiration from both students and teachers, and always seeks to further her skills, "stepping out of her comfort zone to experience more diverse events, environments, and settings."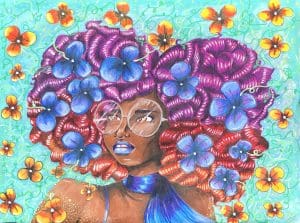 Jordan Patton | Marshall Fundamental
"Hard-working, motivated, and self-driven" are some of the first words nominator Mr. Luis Rendon uses to characterize Jordan. While Jordan did not study visual arts all four years of high school, he has worked to build the skills and discipline to match his own creativity and imagination. Inspired by anime and classic American superhero comics, Jordan has cultivated his own style, "developing the visual aesthetic of his characters and the universe in which they live" as well as "creating storylines, alternate universes, and dozens of characters in the written form." Jordan excels in color theory and has worked on playing with scale, perspective, and space. His preferred media are colored pencils, watercolor, and markers, though he has recently been transferring those skills into digital media as well.
Ana Portillo-Saravia | John Muir High School ECM
Nominator Ms. Cynthia Lake describes Ana as "a talented artist who supports others, challenges herself to improve her practice, experiment, and take risks that lead to improved skill sets. Ana faces challenges rather than shy away from things that require effort and resiliency." Ms. Lake notes that Ana balances her academics and art with her family life, caring for her elderly family members alongside pursuing her studies. Oil paint portraiture has been her preferred medium of late, and she has created a series of female figures and portraits that investigate the nuances of women – from their personalities, their vulnerabilities, their "super powers" – as well as the various perceptions of beauty in different cultures. She strives for excellence in all aspects of her life.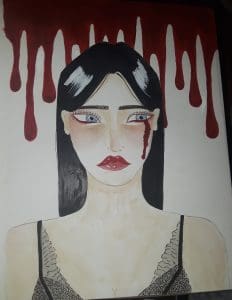 Stephanie Ramirez | Blair High School
Stephanie's nominator, Mrs. Vilma Martinez, has noticed Stephanie's dedication to the arts at Blair through not only her consistent presence in the Art Club – of which Stephanie was member, then Vice President, and most recently served as its President for the 2019-2020 school year – but also her efforts to help fundraise money to purchase art supplies for students who wouldn't otherwise be able to afford them. Starting with drawing with Prismacolor pencils, Stephanie moved into experimenting with acrylic and watercolor painting and fell in love. Her work reflects her love for Asian art and culture. She never shies away from experimenting and growing artistically, and remains "grounded and appreciative of the opportunity to express herself through Visual Arts."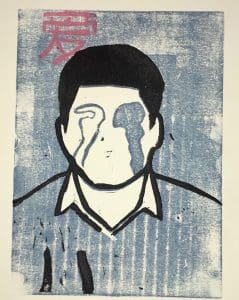 Salomon Rosas | Rose City High School
Nominator Mr. Eric Gothold has been impressed not only by Salomon's talent but also by his demonstrated initiative and responsibility. Salomon has been instrumental in helping run events and projects like the school field trip to the Louis Vuitton museum and preparing and installing PUSD's "No Boundaries" Art exhibition for both 2019 and 2020. Accomplished in digital art, Salomon has created promotional materials, too, from flyers to program ads. After Salomon spent a summer studying fashion at the Otis College of Art and Design – during which he was able to create an original garment from start to finish – Mr. Gothold is most excited to see how Salomon's skills as a sketch artist and fashion designer grow.
PEF has distributed over $50,000 in the past few years in scholarships to graduating seniors on behalf of individuals, groups, and foundations. Scholarships can be specific to a field of study such as STEM or art, needs-based, or for academic achievements.
https://pasedfoundation.org/our-work/grants-awards/scholarships/
Brianna Chu | Digital Storyteller
Brianna Chu was born and raised in Pasadena, California, only leaving her hometown to travel across the Atlantic Ocean to the University of St Andrews in Scotland, where she earned her Master of Arts degree in International Relations and Psychology. Upon returning to the States, she began sharing stories of local restauranteurs and their food for the Pasadena Independent. She now also holds the role of Digital Storyteller for the Pasadena Educational Foundation.