I was really moved about two weeks ago at Muir High School; halfway through the grab-and-go line, I walked up to this one car…and the mother inside got teary-eyed and she said to me: 'Everytime I come here my eyes well up – you have no idea how much this means to me and my family.' …It's the little things like that that make a big difference.
Sylvia Vega | Realtor & PEF Volunteer
by Brianna Chu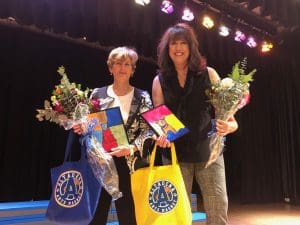 While Sylvia Vega has had a varied career, the connecting factor has remained the same: people. Ms. Vega appreciates that everyone and everything has their own unique story and loves building connections with others, which is what she enjoys most about helping people find their new homes as a realtor for Keller Williams Realty. She's a community woman, and knowing the communities in which her homes and clients reside is a crucial aspect of her job. Her mother's 40 years as a teacher for the Los Angeles Unified School District has certainly influenced her engagement with community education, and Ms. Vega has been on the Altadena Town Council's Education Committee for four terms now and is keenly aware of the importance of public education.
Ms. Vega was introduced to the Pasadena Educational Foundation (PEF) through a neighbor who was on the PEF board and, through that neighbor, got involved connecting families interested in getting to know the Pasadena Unified School District (PUSD) with PEF. She learned more about PUSD herself as a part of the first group of realtors to take part in PEF's Realtor Initiative, and was even Principal for a Day at Altadena Arts Magnet, seeing firsthand the amazing resources the school has available for its students. "PUSD has so much to offer," she says, "and all in your own backyard: from STEM, to arts, to dual language immersion."
One of Ms. Vega's earliest and most impactful volunteering for the PUSD schools initially came through her realtor group, Keller Williams. The company has a RED Day – which stands for "Renew, Energize, Donate" – in which all branches spend the day giving back to their local communities. In the first year Ms. Vega chaired the RED Day initiative for her branch, she turned to Cleveland Elementary, reaching out their principal at the time to simply ask: What could you use most from us right now? The result of which was 50 realtor agents, quite a few soccer and basketball nets, and a painting and stencil spree, as Ms. Vega and her colleagues spent the day adding equipment to the school's campus and beautifying the campus with some art.
Given the community's rich diversity of individuals, with their own gifts and talents, Ms. Vega mused, "Think of all that we could accomplish by pooling our collective gifts and talents."
Since then, Ms. Vega has volunteered for many other PUSD schools, reading for students, bringing realtors back to schools to volunteer, and more recently, serving grab-and-go meals at John Muir High School. In times like these, neighbors are coming together to uplift each other, and Ms. Vega has served meals alongside a myriad of people, from a local salon owner to a cinematographer to retired folks, all coming together to help provide meals for those families in their community for whom money is especially tight. Ms. Vega takes pride in being a part of the organization of community members helping make these meals happen.
She knows that there are plenty of people who want to help their schools and community, and to those people she suggests taking the same approach she did: connecting with the Pasadena Educational Foundation and asking, how can we best help you?
Find out how you can become a PEF volunteer here.
Brianna Chu | Digital Storyteller
Brianna Chu was born and raised in Pasadena, California, only leaving her hometown to travel across the Atlantic Ocean to the University of St Andrews in Scotland, where she earned her Master of Arts degree in International Relations and Psychology. Upon returning to the States, she began sharing stories of local restauranteurs and their food for the Pasadena Independent. She now also holds the role of Digital Storyteller for the Pasadena Educational Foundation.