He just really enjoys seeing the kids happy…I think his volunteering helps both him and the kids. Sylvia Bianchi
by Brianna Chu
Silvio Montoya has been a familiar face at Don Benito Fundamental School and Field Elementary School for a decade now. A Pasadena Unified School District (PUSD) parent himself, Mr. Montoya started running errands for the teachers managing the drop-off line at Field Elementary around 2010, when his son started attending school there. After an injury from his work in construction, he started to spend more time volunteering in the mornings at Field. Through his wife, Ms. Sylvia Bianchi, who was active in the Parent-Teacher Association, he learned that Don Benito was looking for volunteers in the morning to help direct the drop-off line traffic…and the rest is history.
M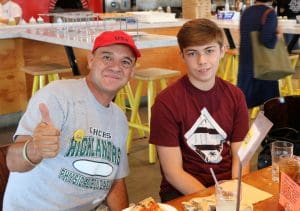 r. Montoya started volunteering for the Pasadena Educational Foundation's (PEF) Summer Enrichment program when his son started attending it, and given all his time volunteering, he and many of the students and parents recognized each other. He has since volunteered for five PEF summers, and for the past two summers, his son has volunteered at Field, too. Last summer, Mr. Montoya and his son volunteered for the PEF Summer Enrichment program together, and both earned recognition from PEF for their time and dedication!
While his son is definitely no longer in elementary school, Mr. Montoya continues to volunteer at Don Benito and Field because he loves spending time with the little ones, saying hi and making them smile; it helps him start his day happy, too. Over the years, he has volunteered for PUSD in many other ways, too: he's dropped into classrooms to read children stories (sporting a Dr. Seuss hat just for the occasion), he's chaperoned field trips, and he's even worked with Special Ed students and loves to encourage and uplift them. He fondly remembers becoming such good friends with one particular Special Ed student that they held hands while they ran the Jog-a-thon fundraiser together at Don Benito.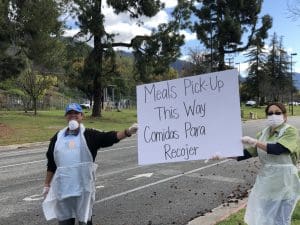 A Nicaraguan native, Mr. Montoya's dedication to the PUSD and PEF community reflects the culture in which he grew up, where everyone knew and helped each other and neighbors kept their doors open. Participating in volunteer work reminds him of his country, and as a social person, he also meets folks from the community through volunteering, too. Mr. Montoya and his family moved to the Pasadena area in 2009, and alongside going to church, volunteering has helped them get to know the whole school and neighborhood community better and they enjoy living in Pasadena even more because of those connections.
Currently, the PUSD and PEF community are sure to see Mr. Montoya's smile while driving in to pick up their grab-and-go meals, and his is a friendly, familiar, and reassuring face for many. However, Mr. Montoya wants everyone involved with the grab-and-go meals – from the cafeteria folks, to other volunteers, to the organizers at PEF – to know that they are doing wonderful work and that he appreciates them.
And to that, we say: Mr. Montoya, we appreciate you and all you do.
Brianna Chu | Digital Storyteller
Brianna Chu was born and raised in Pasadena, California, only leaving her hometown to travel across the Atlantic Ocean to the University of St Andrews in Scotland, where she earned her Master of Arts degree in International Relations and Psychology. Upon returning to the States, she began sharing stories of local restauranteurs and their food for the Pasadena Independent. She now also holds the role of Digital Storyteller for the Pasadena Educational Foundation.