Thank you to all who supported the Pasadena Educational Foundation's Response Fund.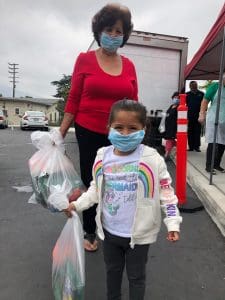 With your help we have been distributing meals for Pasadena Unified students and families who are struggling financially at this time, addressing technology needs for this new form of distance learning, and creating and distributing 3D printed face shields needed to protect the safety of food service workers, janitors, health workers, and local hospital staff, and keeping our school community connected.
We know it is more important than ever to keep our schools and families connected. Communication between teachers and  students and their parents will be the key to effective online learning and vital to a student's success. With the transition to distance learning regular in person communication opportunities were difficult and most districts, including Pasadena Unified, were not set up for teachers to be able to communicate from outside of the schools in a secure manner. With community support of PEF's Response Fund we were able to fund the technology necessary to make these important communications happen.
PUSD has now implemented Webex Teams as a soft phone system to make and receive calls from inside or outside of the PUSD network. As we move into the Fall semester, this will allow our teachers to utilize the PUSD phone system to smoothly communicate directly with our families and students securely and regularly.
COVID-19 has changed the lives of everyone globally, especially for students, teachers, and their families since schools went to distance learning. We are grateful for the tremendous support our community has shown for PEF and our PUSD schools. Your support today—and moving forward—is key to the success of our community's children.
---
Interested in donating to the Response Fund?