Thank you to the Pasadena Art Alliance, for awarding PEF the 2018 Impact Award and $20,000 for our collaborative My Masterpieces: Discovering Art in My Community program.
My Masterpieces delivers a comprehensive visual arts curriculum by connecting arts-integrated classroom lessons taught by teachers in the Pasadena Unified School District with a related field trip component led by staff or docents from our 11 partnering museums and visual arts institutions. The program is operated in partnership with our district and serves every K-6 student in the PUSD, providing community-based arts learning opportunities for over 9,500 students and 490 teachers in Altadena, Pasadena, and Sierra Madre.
The Pasadena Art Alliance is often called the largest independent contemporary visual arts support group in the nation. Since 1955, the group's members have supported contemporary art and artists and provided financial support, through grants, of over $6 million.
The award was announced on Thursday at the Art Alliance's annual meeting at a private residence near the Rose Bowl. The Impact Award is designed to broaden PAA's impact on arts education by honoring an organization and its educational programs for youth.
Find out more about our My Masterpieces program and our partner institutions here.
2018 Partners included:
Grade K – Kidspace Children's Museum
Grade 1 – Huntington Library, Art Collections and Botanical Gardens
Grade 2 – City of Pasadena – Public Art Walking Tour, provided by Side Street Projects
Grade 3 – The Gamble House
Grade 4 – Pasadena Museum of History and Pasadena Museum of California Art
Grade 5 – Norton Simon Museum and Armory Center for the Arts
Grade 6 – USC Pacific Asia Museum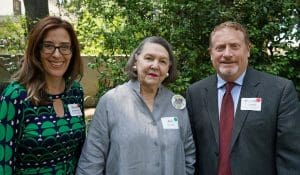 Photo credit: Pasadena NOW