What an exhilarating evening!
Not only did our Celebrating Our Schools BREAKTHROUGH 2018 guests hear amazing speakers, share wonderful conversations, and eat fantastic food, but they got hands-on and had fun at this year's student showcase featuring interactive exhibits and experiences highlighting Pasadena Unified's outstanding students and remarkable programs.
From Alice in Wonderland to solar powered boats, we were wowed with costume design & French poetry, immersed in technology, challenged with advanced math, brought into the jury selection process, and became a part of PUSD's story of educational success and innovation.
Thank you to our school partners, teachers, parents, and students for contributing their time and immense talents. This year's 3rd annual showcase was full of surprises.
Interactive exhibits included: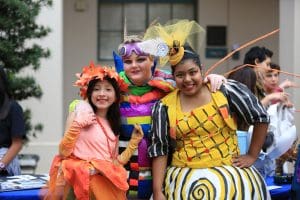 DESIGN
Peer through the looking glass as Bauhaus & Chagall meet Alice in Wonderland through the art of costume design. Watch out for rabbit holes. Teacher: Micol Issa | Eliot Arts Magnet & Theater & Costume Shop
---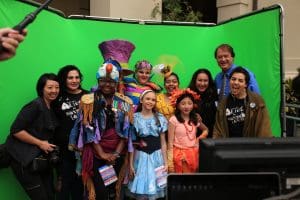 IMAGINE
It's your stage debut! Grab a costume and join the cast of Alice in Wonderland through the magic of a green screen photo booth. Guests received a special Breakthrough commemorative photo. Teacher: Andrew Silk | Arts, Entertainment and Media Academy, Muir High School
---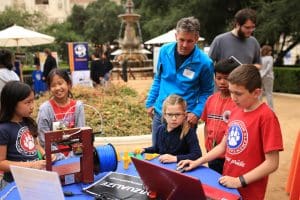 VISUALIZE
What would you make? Explore the transformative world of 3D printing and discover how our PUSD elementary students are applying design theory to envision new objects. Teacher: Nichole Anderson | Hamilton Elementary
---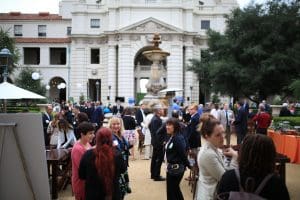 CODE
It's the big draw! Discover the world of computer science as you digitally paint with your friends and see how learning to code teaches creativity and problem solving. Teacher: Samantha Squires | App Academy at Pasadena High School
---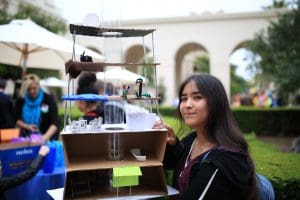 EXPLORE / EXPLORAR
STEAM + Spanish Immersion. Create Bluetooth speakers, explore alien habitats, and meet the new multilingual Capitan DLIP. Teacher: Erica Peters | Washington STEAM Multilingual Academy
---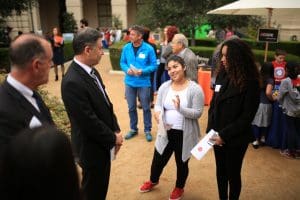 SERVE
You have been selected for jury service. What's the verdict? Will you be empaneled or thanked and excused by PHS's Law & Public Service Academy students.Teacher: Lee Simoes | Law & Public Service Academy, Pasadena High School
---
SOLVE
Are you smarter than a middle schooler? Find out. Challenge yourself and see if you can solve the advanced math problems they are learning in Math Academy. Teacher: Jason Roberts | Math Academy
---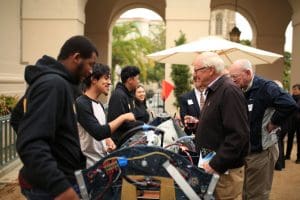 ENGINEER
Make an eco-splash when you join the Solar Cup team of high school students that designs, builds, and races a a 15-foot, solar-powered boat. Teacher: Beverly Rodriguez | Engineering and Environmental Science Academy, Muir High School
---
EXPRESS
Parlez-vous Français? Be inspired as you are treated to poetry in French from 1st & 2nd grade French Immersion students. Teacher: Benita Scheckel | Altadena Arts Magnet
---
PROGRAM
See how middle school students throughout the district are learning to create, innovate, and lead the digital age through the exciting world of robotics. Teacher: Jason Taylor | Wilson Middle School
---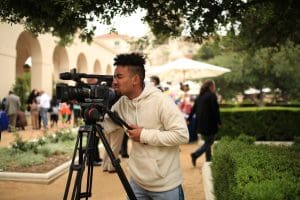 TELL
Be a part of the Breakthrough story when you engage with our MOJO Backpack team learning mobile journalism, an emerging form a new media storytelling. Teacher: Andrew Silk | Arts, Entertainment and Media Academy, Muir High School
---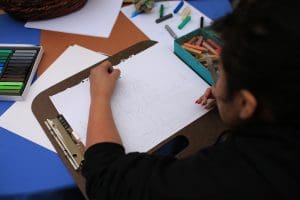 CREATE
See young artists at work as our students create artwork inspired by the glorious architecture of Pasadena City Hall. Teacher: Alica Gorecki | Creative Arts & Media Academy, Pasadena High School
---
Plus the amazing Blair High School Jazz Band
Teacher: Michael Birnbryer
with Allison Pultz, Shannon Mumolo, Karen Anderson, and Kristina Turley.