From all of us at PEF—thank you, Angela, for the years of passion and dedication to the betterment of our PUSD schools and the uplifting of the many students who walk their halls.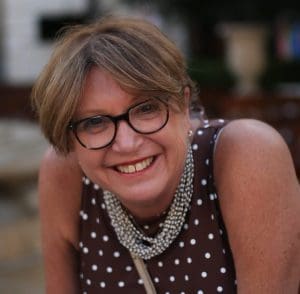 Pasadena Educational Foundation (PEF)'s first Executive Director, Joan Fauvre, was expanding the work of PEF and needed someone to help her reach out to the business community in support of our public schools. She knew that Angela Parris was a businesswoman who had experience working at a nonprofit organization; thus, in 2004, she brought Angela on board to help her with the business portion of PEF's work. What began as a limited capacity role quickly grew from part-time to full-time, becoming the third chapter of Angela's career.
Angela initially earned her degree as a physical therapist. Shortly after she had her second child, she realized all the toys she wanted to give her children were from occupational therapy departments. Inspired, she and a friend opened a toy store, where she utilized her background to help choose great developmental toys to offer their customers.
She jumped into work at PEF with this perspective of care, creativity, and support that applied to both children and adults alike. One of her first assignments was to write a story on Teacher Grants, featuring one recipient, a teacher at Franklin Elementary. Meeting the then-first grade teacher Ria Apodaca (who is now Pasadena Unified School District's (PUSD) Director of Health Programs), Angela was incredibly inspired by Ria's interactions with her students. For her part, Ria recalls Angela's enthusiasm and support for what she was trying to accomplish in her classroom, something that Ria witnessed many times more in the years to come. Reflects Ria, "She's committed and dedicated to the kids, and is also very aware that the adults who support the kids also need to be nurtured as well."
This attention not only to students' but also teachers' goals and needs was reflected in Angela's approach to working with teachers on PEF's Summer Enrichment Program, one of her greatest passion projects over her tenure at PEF. When she reflects on Angela's accomplishments over the years they worked together, Joan immediately thinks of PEF's Summer Enrichment program: "She worked so hard at that, interviewing all the teachers, coming up with creative ideas for classes."
Angela brought that same creativity and sense of fun and play she helped parents and kids spark at her toy store to the Summer Enrichment Program. "When teachers would bring me their summer school course plans," Angela says, "I would ask them: 'If you could teach any class you wanted—anything at all—what would you teach?' I'd watch their eyes light up as they'd tell me; and then I'd say, 'Perfect! Then that's what we'll do!' "
Not only did this provide fun enrichment for the students, but teachers were also given the creative freedom to teach students about topics they wouldn't normally be able to or in ways they normally wouldn't do in a classroom. Under Angela's wing, the PEF Summer Enrichment program grew from an enrollment of maybe 80-100 students that first year to over 1,500 students in recent years.
Joan also recalls that Angela was instrumental in starting the Principal for a Day program at PUSD, a little more than a decade ago. Angela knocked on many doors that first year to find the first PUSD Principals for a Day, a stark difference to the program's popularity today, as there's currently a one to two year-long waiting list.
After Joan left PEF, Angela moved into development, building relationships with donors and businesses. She may not have been an expert on PUSD schools when she started working at PEF, but she became one over the years, listening to what was happening in our schools and making connections. Indeed, in 2016, Angela was recognized for her dedication to PUSD with the first annual Superintendent's Award honoring exceptional individuals who make lasting contributions to the success of Pasadena Unified students. PEF's current Executive Director, Dr. Patrick Conyers, thinks that "the combination of her in-depth perspective of the schools and challenges and successes that they are having along with the passion she has for the work that PEF has made her the perfect person to be PEF's Director of Development."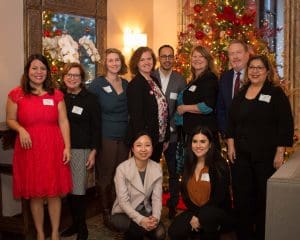 While the successes of each spring's Celebrating Our Schools events and annual fundraising campaigns have been testaments to Angela and her team's efforts, Patrick has a special memory of Angela that, for him, encapsulates the professional admiration and personal appreciation he has for her. Two years ago, an amazingly generous challenge grant was offered by the Helen and Will Webster Foundation, matching donations dollar for dollar, up to $250,000. The challenge had a short window, but with the prospect of raising up to half a million dollars to help support PUSD schools, the team went to work–and the community responded. Conyers remembers the tears of joy rolling down Angela's cheeks after two especially significant donations came in. "All that hard work of communicating the importance of why we exist and what we're doing to support public education in our community—it paid off in those moments."
In reflecting on her work as Director of Development, Angela says, "I don't think I've ever really asked anyone for money. Just talking about what teachers are doing, or My Masterpieces, or summer school…if you're truly passionate, people are going to want to be a part of it."
Angela's passion for her work is easily attested by those around her. Joan describes Angela as having "a real warmth about her and real understanding of kids' needs and the needs of schools." Ria smiles when thinking of the times when Angela has come to share an idea with her "because I know it's going to be something exciting that will help us and our kids. It's a team approach; we are a family that supports all of our kids," she says. Patrick notes: "In every setting—from events to phone calls, in meetings and even through her thank you notes—Angela always exudes an infectious passion for the work PEF does."
When considering how to honor Angela's tenure at PEF, Patrick thought of the close relationship between PEF and Rose City High School, as PEF's offices currently reside in one of Rose City's halls. "We feel like we've adopted the Rose City kids, sharing those hallways," he says of the special bond between Rose City and PEF staff. Furthermore, while each of PUSD's main high schools had their own scholarships, many of which Angela had a hand in establishing, there hadn't been a dedicated scholarship for Rose City students…until now.
The first recipient of the Angela Parris Scholarship at Rose City High School is Angela Delgado.
Miss Delgado exemplifies resilience, overcoming the loss of both her parents to medical complications: first, the loss of her father when she was only eight, then the loss of her mother just three years ago. As her mother's health suffered, Angela was trying to cope with the situation at the same time as maintaining her academics. She found the support she needed at Rose City High School, quickly making up the credits to return to her original high school. Ultimately, she chose to stay, as she became aware of her ability to be independent and be an advocate for her education. In her valedictorian speech, she honored both her parents for the role they played in her motivation to graduate. Angela is currently attending Pasadena City College, where she plans to finish her general education, and then move on to a university that offers courses in law, criminal justice, and public health.
---
Support the Angela Parris Rose City Scholarship

---