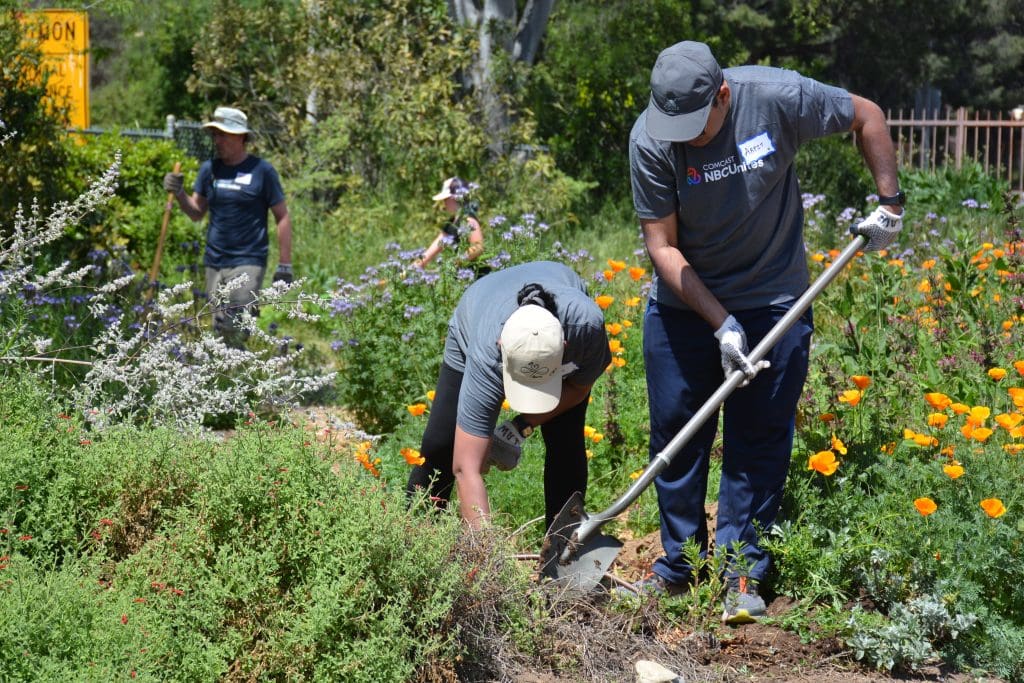 On April 22, 2023, the Pasadena Educational Foundation and their partner L.A. Works teamed up with volunteers from NBCUniversal, Apple, Kaiser Permanente, and FAVE to celebrate Earth Day by improving four school gardens in the Pasadena Unified School District. John Muir High School, Pasadena High School, Madison Elementary, and Washington Elementary were the lucky recipients of this community-driven initiative, which aimed to promote sustainability and environmental awareness while providing valuable educational opportunities for local students.
Over 300 volunteers participated in this event, dedicating their time and energy to make a positive impact in their community. Together, they planted native California plants, upgraded the greenhouses, weeded, mulched, and helped upgrade these key outdoor classrooms. The result was four revitalized gardens that will continue to serve as valuable learning resources for students, promoting hands-on education and environmental stewardship.
The benefits of this Earth Day partnership go beyond the immediate improvements made to the school gardens. By bringing together volunteers from diverse organizations and backgrounds, this initiative helped foster a sense of community and shared purpose. It also provided a platform for individuals to learn about the importance of sustainability and environmental conservation, and to take meaningful action towards a more sustainable future.
The involvement of these major corporations highlights the growing awareness among businesses of the importance of environmental responsibility. By partnering with community organizations like the Pasadena Educational Foundation, these companies are able to make a meaningful impact at the local level, while also contributing to their broader sustainability goals.
The partnership between the Pasadena Educational Foundation and L.A. Works is a testament to the power of collaboration and community-driven initiatives. By working together towards a shared vision of sustainability and environmental stewardship, we create a brighter future for ourselves and for generations to come.
As we reflect on this year's Earth Day event, we take inspiration from the dedication and hard work of the volunteers who participated. Their efforts demonstrate the potential of collective action to create positive change in our communities and beyond. Let us continue to work together towards a more sustainable and equitable future for all.