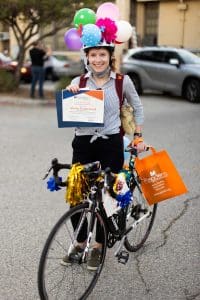 During our Teacher Grant drive through parade, teachers were asked to decorate their cars for a chance to win a prize. Our teachers did not disappoint, which made it difficult to choose only one. We are happy to announce the winners.
First place goes to Alisha Underwood from Altadena Arts Magnet who kept it green and decorated her bicycle as she rode along our route. Additional Winners include Briseyda Rivers from McKinley whose students are worth melting for. Lastly, Diana Nestico-Arnold and Dessire Emralino from Madison blew us away with their rocket car. Thank you to all those that participated and congratulations once again to all of our recipients.
And a special thank you to our DJ family for bringing the fun and music all night: Jonathan Hennessey, Annie Oelschlager and their daughter.
Happy Holidays!