More than 100 teachers joined the parade in decorated cars to receive their awards.
[Photo gallery available 12/8]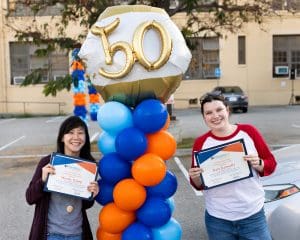 PASADENA, CA – Pasadena Unified (PUSD) teachers and principals received $200,000 in grants thanks to the Pasadena Educational Foundation (PEF), College Football Playoff (CFP) Foundation, and Pasadena Tournament of Roses Association at this year's PEF Teacher Grants Celebration & Parade on Wednesday, December 1. The grants, awarded yearly, benefit thousands of students in the public schools of Altadena, Pasadena, and Sierra Madre.
PEF is celebrating its 50th year of supporting PUSD students, teachers, and schools. The 2021 PEF Teacher Grant winners decorated their cars and received their awards at the second teacher celebratory parade in front of the PUSD district headquarters building. This year, 209 educators received awards representing 139 unique proposals from every school in the district. In addition to grants directly to teachers, PEF awarded 8 School-wide Project Grants, grants to the PUSD Child Welfare, Attendance and Safety Department, and Children Centers and three special awards. School-wide Project Grants are for larger focused projects.
This year's grants focused on addressing the unique resource needs of classrooms during the pandemic and enhancing opportunities for dance & music performances, art exhibits, science experiments, and more. A keyboard music studio, recording studio, science lab, Literacy & Wellness Lounge, books in Spanish, French, Mandarin, & Armenian, expanded gardens, cameras, and flexible seating are just a few of the diverse and vibrant educational projects that the 2020-21 PEF Teacher Grants are supporting.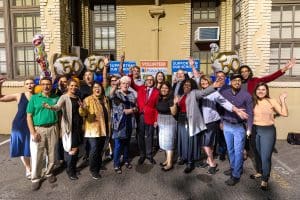 "The goal of the PEF Teacher Grant Program is to promote the development of educational activities that will improve and enhance student achievement," said PEF Executive Director, Patrick Conyers. "This year, our grants are especially meaningful, because they are helping excellent teachers find new and creative ways to engage their students during the pandemic. We are grateful to our partners at the College Football Playoff Foundation and Tournament of Roses, and to everyone who supports PEF. Their support makes this wonderful program possible."
PEF also recognized three exemplary grant submissions with special awards: the Jarratt Brunson Memorial Award for Literacy honoring one of the founders of PEF responsible for initiating the Teacher Grant Program; the Kathy Onoye Principal's Leadership Award given in honor of the former PUSD Executive Director of Elementary Education; and the Calvin Hunt Arts Award, that promotes and supports dedicated teachers enhancing arts education in PUSD.
A full list of this year's award winners is available online here: http://pased.org/teachers
PEF Teacher Grants help bring more creativity, innovation, and inspiration into our PUSD classrooms by providing the resources needed to help our teachers and principals take their creative projects from idea to reality and enhance the classroom experience for their students.