By Brianna Chu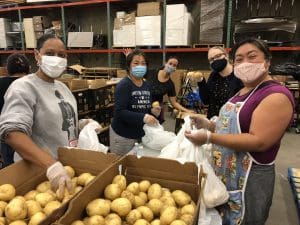 Farm to School is a Pasadena Unified School District commitment to sourcing locally grown fruits and vegetables in PUSD school meals. This program takes advantage of the agricultural abundance of California, where we grow more than a third of the US's vegetables and two-thirds of its fruits and nuts. The Pasadena Educational Foundation supports the Farm to School program through grants, fundraising, and volunteerism.
In addition, this program features a Farm to School and Harvest of the Month produce item each month, showcasing delicious seasonal produce and encouraging enthusiasm around healthy eating. However, most recently, Farm to School has sourced produce from not just from local sources within California, but also the most local source to the district—PUSD's own gardens!
Master Gardener Jill McArthur and her team have been busy harvesting pounds upon pounds of produce from PUSD gardens for use in PUSD lunch lines. These freshly grown fruits and vegetables, lovingly planted across PUSD campuses, nourished by the care of Jill, other gardeners, and PUSD students, are coming full circle to nourish those same PUSD communities.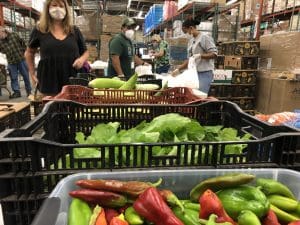 Thus far this fall, the total harvest tally is: 
3 lbs of okra
5 lbs of radishes
6 lbs of Collard greens
15 lbs of black-eyed peas
20 lbs of Anaheim chili peppers
20 lbs of tomatoes
25 lbs of cherry tomatoes
30 lbs of bell peppers
50 lbs of basil
50 lbs of Swiss Chard
150 lbs of sugar pie pumpkins
250 lbs of yellow summer squash
Master Gardener Jill is thrilled with these numbers and hopes that PUSD can continue to contribute its own produce not only to Farm to School but also to the monthly CalFresh Produce Drives. Our PUSD gardens are ripe with opportunities: for learning enrichment and experiences, as a green space on campuses for students to enjoy and explore, and as a source of healthy nourishment for our PUSD community.
Want to help? Learn more about monthly produce drives here.