I want to do what I can to put people into a position to aim for the stars, knowing that as long as they work hard they can pursue their dreams. As I have enjoyed the benefits of a good education, there is nothing better than giving back to kids starting their journey and helping them achieve their goals.Bhart Manwani
In its third year, the Manwani Family Scholarship is a scholarship specifically for Marshall Fundamental graduates, created by Marshall alumnus Bhart Manwani. Mr. Manwani and his older brother attended Don Benito Fundamental School and then Marshall Fundamental School after they moved to the United States from Nigeria with their father. While they each graduated out of high school a year early (in '88 and '90, respectively) so they could also graduate from CalPoly Pomona sooner and help their dad work, both brothers have strong memories of their three years at Marshall. Mr. Manwani reflects thoughtfully on the influence of his teachers, remembering gratefully the patience with which English teacher Ms. Chapman taught them as they caught up with learning English, as it was their second language, and fondly recalls the hours spent after school playing chess with Mr. Joiner and playing soccer with Mr. Burkes. Mr. Manwani remains close with several of his Marshall classmates, and it was one of these friends, a fellow Marshall alum who was closer to the school system, that inspired him to lend a hand to the next generation of Marshall students
In these tough times, Mr. Manwani notes that there are more people in more challenging situations than they were. He wants these scholarships to help boost the next generation along their path and help them on their journeys, passing along the favor his dad gave to him and his brother in helping them with their education. After his father passed away in 2013, Mr. Manwani wanted to honor his father's legacy by finding ways to give back to his community and others around him, as far as his arm could reach out to help—and what better place to give back? 
Mr. Manwani wants young aspiring individuals everywhere to know that they can pursue their dreams with some effort and some luck. 
---
Interested in creating a scholarship fund or contributing to an existing one? Contact us at pfash@pasedfoundation.org.
---
2021's four Manwani Family Scholarship recipients are:
Samuel (Sam) Bliss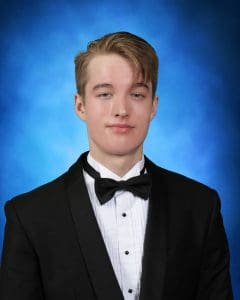 Sam has been a Marshall Eagle since his promotion from Don Benito Elementary. He will be attending the University of Wisconsin-Madison and plans to major in Kinesiology.
He has been involved in numerous sports, including Cross Country, Soccer, and Track and Field, for the past four years. Sam has qualified for the Mission Valley League Finals in Track and Field each year in multiple events. He also holds the School Record in the 800 meters. He won the Cross Country All League Honors as a junior and was part of Marshall's first ever Cross Country team to qualify for CIF finals. Sam has been captain of the varsity cross country team for the past three years.
He has also been a member of the National Honor Society and Broadcasting Club and has been recognized by the College Board as an AP Scholar. He volunteered for eight weeks as a teacher's assistant at San Rafael Elementary for PEF. 
---
Alexas Brown
Alexas joined the Marshall Eagles in seventh grade. She completed sixth grade at Eliot Middle School after moving from Florida to California between fifth and sixth grade. She will be attending Cal State San Marcos this fall, majoring in Human Development and Health Services. 
As a Marshall Athlete, Alexas was on the Marshall Cheer Team, leading the Lady Eagles in capturing regional advancement to the National Cheer Competition in 2020. She was the Cheer Team Captain in both her junior and senior years of high school. 
Her club memberships include the Cheer Club, the Black Student Union (BSU), the National Honor Society, and the Nursing and Healthcare Club. She was the BSU Meeting Organizer in twelfth grade. Alexas has volunteered with her church feeding the homeless on Skid Row on Saturday mornings, and she is a member of the World Vision Ministry, through which she sponsored a nine-year-old girl from Ethiopia through regular monthly donations.
---
Alex Chew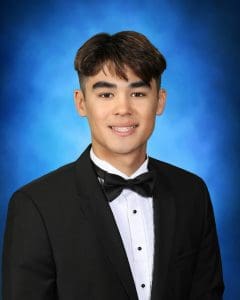 Alex has been a Marshall Eagle since his promotion from Webster Elementary. He will continue his higher education at UC Davis, where he plans to pursue a major in Psychology and Business. 
While he has played basketball at Marshall, his greatest passion is being on the baseball field with his fellow teammates. He has been dedicated to the high school team since ninth grade. On the field, Alex can be found pitching on the mound, catching behind home base, or in center field. He received the Mission Valley League Second Team All League Award in 2019. 
Alex has been a member of the Yearbook and Liberty Clubs. Outside of school, he volunteers with the Arroyo Seco Foundation, assisting in preserving local trails and helping the Boy Scouts build a shed, taking charge of the roof construction. 
---
Kaitlyn "Katie" Placensia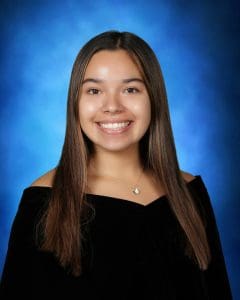 A Marshall Eagle since sixth grade, Katie will be attending Occidental College, planning to major in Biology and play on Occidental's softball team. 
Katie has played middle infield and outfield in travel softball since middle school. She was on the Marshall Varsity Softball team throughout high school, serving as captain her junior and senior years. Katie has worked at the Sierra Madre Little League Baseball Field since tenth grade. She received the Mission Valley League Second Team All League Award and was the Slugger of the Year Recipient in 2019. 
She has held a role in Marshall's Associated Student Body (ASB) every year since middle school. Katie has been involved in many societies, including: the National Honor Society, the Spanish National Honor Society, the Chess Club, the Softball Club, Key Club, Broadcasting Club, and she even founded and led the Students for Environmental Awareness Club since junior year. 
Katie made food for the homeless through the Adopt-A-Meal Program her sophomore and junior years. She was a PEF Summer Enrichment Program volunteer at Jackson Elementary and also volunteered after school at Annandale Elementary. 
---
From all of us at PEF, congratulations to Sam, Alexas, Alex, and Katie—we can't wait to see what you accomplish in college and beyond!
PEF has distributed over $50,000 in the past few years in scholarships to graduating seniors on behalf of individuals, organizations, and foundations. Scholarships can be specific to a field of study such as STEM or art, needs-based, or for academic achievements.
https://pasedfoundation.org/our-work/grants-awards/scholarships/
---
Brianna Chu | Digital Storyteller
Brianna Chu was born and raised in Pasadena, California, only leaving her hometown to travel across the Atlantic Ocean to the University of St Andrews in Scotland, where she earned her Master of Arts degree in International Relations and Psychology. Upon returning to the States, she began sharing stories of local restauranteurs and their food for the Pasadena Independent. She now also holds the role of Digital Storyteller for the Pasadena Educational Foundation.