Alma is a champion of social justice who inspires us with her compassion, kindness, and love for her community.

Reverend Ed Bacon, former Rector of All Saints Church
by Brianna Chu
Early Life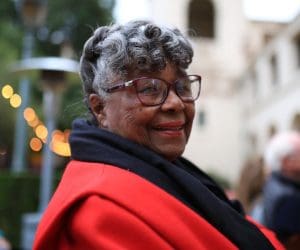 Alma Stokes's four oldest children can imagine their mother's life as a movie. The seventh child of a family of twelve children, Alma was born in 1931 in Everett, Washington to her father, Reverend T.A. Patterson, a teacher turned African Methodist Episcopal minister, and her mother, Ruth G. Patterson, an active community member and stay-at-home mom who raised and managed their large household. Alma's father was not only dedicated to the church community but was also active in the National Association for the Advancement of Colored People (NAACP), and Alma would later follow his example of activism. When Alma was still young, her father was assigned a church placement in Riverside, California, and the family moved to San Bernardino. Her father's church placements had taken their growing family across the country: he had started in St Louis, Missouri, and Alma also remembers other placements in Pocatello, Idaho, and Spokane, Washington. Once they moved to San Bernardino, however, her mother put her foot down. While her father was still assigned and commuted to various other placements in the years to come, the family remained in San Bernardino.
Motherhood and Moving to Pasadena
Alma first got married in Riverside and then moved to Pasadena in 1953, having wanted to live there since her youth, when her father would drive the family to Pasadena to watch the Rose Parade—they always arrived in time to watch the parade near the end of the parade route. Her family was actively connected to all of their extended family, driving to both San Bernardino and Riverside to visit both sets of grandparents' houses most weekends, and generally entertaining and hosting barbecues at their house in Pasadena—where Alma still lives and hosts (pre-pandemic, of course) barbecues on the Fourth of July, since the house gets a view of the fireworks from the Rose Bowl.
As a family, they were all actively involved in the church, a testament to Alma's upbringing. When the oldest children were about seven years old and younger, they remember their parents starting church programs for the teenagers: a basketball league by their father and a "snow trip," involving an annual camp retreat in the mountains. They started these programs with the hope that the programs would be well-established by the time their children were teenagers themselves and they too could enjoy them.
In October 1962, the family suffered a great loss with the death of Alma's husband. The children were ten and younger, and Alma was set to complete her teaching credentials later in the year. It would have been understandable if the family's lives had ground to a standstill in the face of such loss and grief, but Alma held the family together. Later that year, Alma attended her graduation ceremony at the Hollywood Bowl as her kids watched on with pride. She refused to miss a beat, guiding her children through the process of continuing their lives even while grieving herself, and continuing their family traditions like: annual family road-trips to explore national parks, other states, experience life across international borders shared with Canada and Mexico; visits to extended family; and their beloved annual outings to Disneyland.
The Beginning of an Illustrious Teaching Career
Within her first year as an elementary school teacher at Washington Elementary, Alma had created a program similar to the one she and her late husband had started at her church: a science program in the outdoors to help expose students to science at work in nature and provide them opportunities to go hiking and camping, experiencing nature and their world in ways they might not have been able to before. And as those who have gone on outdoor education field trips before know the camaraderie, joy, lessons, and friendships made on these trips can last a lifetime. Every year, for many years, Alma would take kids to hike and camp at locations like Henninger Flats, Joshua Tree, Death Valley, and many more.
When Alma moved to teaching junior high school, alongside teaching traditional academic classes she also taught theater and speech and debate. She sent her students across town, performing memorable special productions, and coordinated many speech and debate competitions, including identifying and coordinating volunteer judges for them. A number of Alma's former students have gone on to develop noted careers that require grounded skills in speech and debate, which they attribute to the time they spent during their formative years in speech and debate with "Mrs. Stokes."
Engaged Activism and Dedicated Volunteering in the Pasadena Community
This period of her earlier teaching career coincided with the Civil Rights Era. Alma has always been engaged with voter registration and volunteering with the NAACP's local telephone banks. In Pasadena, during the early to mid-1960s sympathy marches were held and organized by the local branch of the NAACP as well as the local churches. Without fail, Alma and her kids were there, marching from the points of origin down Colorado Boulevard.
Outside of teaching, Alma started to volunteer with Friends in Deed and the AIDS Food Pantry—which unfortunately no longer serves Pasadena—even while she herself opened her home and kitchen to all her children's friends. Alma packed a big freezer she stored in the garage with extra bread, meat, and snacks like Twinkies and Ding Dongs.
Alma's involvement in activism and volunteering within the Pasadena community quickly grew. Since 1965, she has been a member of the local Pasadena chapter of Delta Sigma Theta Sorority, a national service organization of college educated African American women, incorporated in 1913, that provides assistance and support through established programs in local communities and throughout the world, with a primary focus on the global Black community.   There are few boards throughout the Pasadena community upon which Alma has not sat, including: founding board, Grace Center, now affiliated with Five Acres; executive board, Pasadena NAACP; board, Pasadena Neighborhood Housing Services; and, board Young and Healthy, where she was recently recognized for her contributions with her own fund, the Alma Stokes Healing Fund.
Alma got involved with the Pasadena Educational Foundation (PEF) in the early 2000's through a previous board president, George Brumder, and has been involved ever since. Even today, she still serves as a PEF board member. As part of her work on PEF's Principal for a Day committee, she has persuaded prominent politicians, corporate and community leaders, realtors, and others to spend a busy and rewarding morning with a Pasadena Unified School District principal. She was also an early proponent of the Pasadena Day Nursery, and even started the COPE program, the Pasadena school district's first program for pregnant minors. Alma's mother, from whom Alma learned crocheting—"…and everything important that I know" as she says–had moved to live with Alma in her older age, and sometimes helped with the COPE program, sharing helpful tips accrued over her many years of experience raising children. They taught the girls extra skills they might need or benefit from, like nursing techniques, child care tips, and even crocheting. Alma continues to utilize those same crocheting skills to this day as part of the Prayer Shawl Ministry at All Saints Church, making prayer shawls to comfort anyone experiencing a challenging personal situation despite her arthritis.
Family Focused
On top of this remarkable lifetime as a full-time teacher—32 years in total, in fact—and volunteering across the community with so many organizations, Alma still never missed a moment to show up for any of her children, which later expanded to include another child from a second union, and a niece whom she raised from 12 years old. Her children all marvel and continue to wonder how their mom managed to attend every single one of their many band, orchestra, school and club performances, football games, and other activities, and also found the time to participate in every single one of their Parent-Teacher Associations even when they were attending different schools.
Alma kept her family together physically, emotionally, and financially throughout difficult circumstances, carrying that responsibility with the utmost compassion, poise, resilience, and tenacity. This incredible energy and tenacity is still evident to this day; one of her children, Karen, lives next door to her, and one day while they were both working on their flower beds at the same time, Karen looked over to see that her mother had already nearly completed both of her flower beds while she was just finishing her first one! She asked her mother, "What is your secret?" and Alma responded, "The secret is, you just keep moving forward!"
Alma is and continues to be a force of nature, achieving the goals she sets herself to, and refusing to bow to any obstacles in her way. Her children often reflect on their mother's life as a reminder to themselves that if their mom could persist and rise above, then surely they can, too. Alma and her lifetime of uplifting her community exemplify a passion, compassion, and generosity that we all can be inspired by and aspire to.
Thank you, Alma, for all that you have done and continue to do for our Pasadena community.
Brianna Chu | Digital Storyteller
Brianna Chu was born and raised in Pasadena, California, only leaving her hometown to travel across the Atlantic Ocean to the University of St Andrews in Scotland, where she earned her Master of Arts degree in International Relations and Psychology. Upon returning to the States, she began sharing stories of local restauranteurs and their food for the Pasadena Independent. She now also holds the role of Digital Storyteller for the Pasadena Educational Foundation.