I hope we can make [students] feel the same way I did when I was a student: full of excitement about my future, knowing people were there supporting me.Katrina Ortega
Celebrating the Inaugural Year of the Hopes and Dreams Scholarship
In the wake of George Floyd's murder and the following protests and campaigns for greater accountability and equality in our economic, political, and social systems, current Marshall parents Martin and Katrina Ortega had been thinking about how they could support the local African-American community. When they read about the recently established Manwani Family Scholarships for Marshall students, they knew at once what they wanted to do.
Mrs. Ortega herself had received multiple scholarships during college, and regardless of their amount, what had always struck her was the significance of that scholarship as a vote of confidence in her capabilities from a complete stranger. Each scholarship felt meaningful to her: a demonstration of support for her journey and the recognition of her skill. And now, Mr. and Mrs. Ortega hope to be able to give African American students of Marshall the same support, recognition, and vote of confidence.
"It is everybody's job to support [the African-American community] at this critical moment and since we have the means to help these students, we felt compelled to do so, to pay it forward. What an honor it is for us to contribute in some small way to the future leaders of our country." — Katrina Ortega

The current wave of increased global activism for the rights of people of color, especially those in our African-American and Indigenous communities, coinciding with the COVID-19 pandemic, which has already financially affected many families, has created a unique challenge and circumstance for graduating high school seniors. It was therefore urgently important to the Ortegas to be able to help students continue their higher education.
Mr. and Mrs. Ortega named the scholarship to let students know that the scholarship is entirely to help support and uplift the students' individual hopes, dreams, and voices.
The Pasadena Educational Foundation (PEF) turned the family's desire to immediately support their community into a fully-fledged scholarship and both PEF and Mr. and Mrs. Ortega are proud to award two Marshall students the Hopes and Dreams Scholarship this year. Though there are two recipients this year, it is Mr. and Mrs. Ortega's hope, as well as PEF's, that anyone who wishes to support Marshall's African American community will feel free to join in donating to help this scholarship grow over the years.
Mr. Ortega added, "[Often] people ask themselves: 'What can we do?'; 'What can somebody do for a movement that's closer to home?' Well, this scholarship was our way to support the Black Lives Matter movement and let these amazing Marshall students know their community is behind them, and their hopes and dreams, all the way."
Interested in creating a scholarship fund
or contributing to an existing one?
Contact us at
connect@pasedfoundation.org
The recipients of the Hopes and Dreams Scholarship for 2020 are: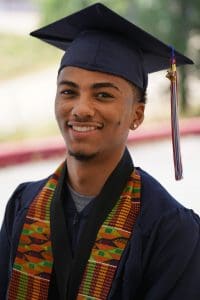 Armond Davis
A Marshall Fundamental Eagle since 6th grade, following his promotion from Longfellow Elementary School, Armond will be attending Cal State Los Angeles in the fall and plans to major in Business. Armond has been a member of the Black Student Union, the Nursing Club, and Unidos over the years, and this past year joined the Marshall Fundamental Associated Student Body (ASB) to serve as the Fundraising Commissioner. On campus, he was a continuous volunteer in the afterschool program, while off campus, he spent three years working as a City of Pasadena Recreation Leader.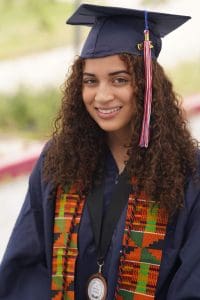 Isabel Glionna 
A Marshall Eagle since 7th grade, Isabel has chosen to attend Cal State Dominguez Hills in the fall, planning to major in Sports Management. Isabel has been a part of the Marshall Fundamental Associated Student Body (ASB) for three years, holding positions as the Assemblies Commissioner, Athletic Commissioner, and Spirit Store Manager. She is a two-year Varsity Athlete on the Volleyball Team and was the Track & Field Team Manager in 2020. She was also a  member of the Marshall Fundamental Mighty Marching Band, winning Color Guard Auxiliary for two years.
Within her community, Isabel has been a member of the Delta Sigma Theta Sorority Incorporated since 2013 and has also dedicated time volunteering at the Arboretum as well as the Alkebu-lan Cultural Center.
PEF has distributed over $50,000 in the past few years in scholarships to graduating seniors on behalf of individuals, groups, and foundations. Scholarships can be specific to a field of study such as STEM or art, needs-based, or for academic achievements.
https://pasedfoundation.org/our-work/grants-awards/scholarships/
Photos courtesy of Katsnaps Photography.
Brianna Chu | Digital Storyteller
Brianna Chu was born and raised in Pasadena, California, only leaving her hometown to travel across the Atlantic Ocean to the University of St Andrews in Scotland, where she earned her Master of Arts degree in International Relations and Psychology. Upon returning to the States, she began sharing stories of local restauranteurs and their food for the Pasadena Independent. She now also holds the role of Digital Storyteller for the Pasadena Educational Foundation.