By Brianna Chu
Of course, the pandemic put a pause on live performance, but you can now see the Pasadena Unified All Star Band from your home! A music video, featuring two professionally-mixed songs, was expertly filmed for its premiere on May 20, 2021. The students were treated like rock stars as they were filmed individually at the Blair amphitheater in late April to create a special celebratory music video, which includes interviews with students, staff, and community members.
---
Or watch the music videos:
---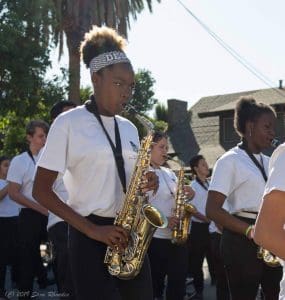 As the Pasadena Unified All Star Band celebrates its second year, big things are already on the horizon for them in 2022. A show band of 45-50 students will be accompanying a Pasadena Unified School District vehicle in the 2022 Rose Parade, whose fitting theme is "Dream. Believe. Achieve. Celebrating Education." Quite understandably, the students are very jazzed—pun intended—about this exciting upcoming performance! Band camp will begin this summer, and rehearsals are set to start in the fall and continue all the way up until the Parade itself.
Pasadena High School's band director, Mr. Dan Adams, also serves in the role of All Star Band director; and under his direction, the band has marched in local parades such as the Latino Heritage Parade in October 2019 and in the Black History Parade in February 2020, and the Los Angeles County Fair in September 2019.
The first annual marching band showcase debuted in January 2020, when each high school brought their band and performed a field show for each other, including a drum-off. The bands came together to play the All Star Band's songs, and the event was a wonderful opportunity for the young musicians to celebrate each other and the All Star Band community.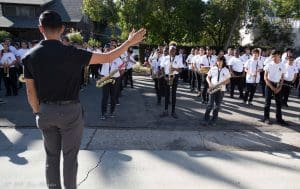 The success of the All-Star Band is due in large part to the concerted efforts of PUSD and the Pasadena Educational Foundation's Arts and Music Fund, and the Rothenberg Fund, which have led to a reinvigoration of PUSD's elementary music education that started in 2012. Current high school seniors would have been the first class to receive the Rothenberg-funded violin lessons as third graders. The Rothenberg Fund has also allowed PUSD's schools to invest in more instruments, which in turn led to an exponential growth in PUSD's music programs; and now, PUSD has the instruments and music program to support a 180-member marching band.
---
Brianna Chu | Digital Storyteller
Brianna Chu was born and raised in Pasadena, California, only leaving her hometown to travel across the Atlantic Ocean to the University of St Andrews in Scotland, where she earned her Master of Arts degree in International Relations and Psychology. Upon returning to the States, she began sharing stories of local restauranteurs and their food for the Pasadena Independent. She now also holds the role of Digital Storyteller for the Pasadena Educational Foundation.