by Nancy Carol Inguanzo, Community Outreach & Volunteer Manager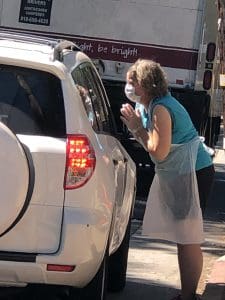 Last week, Pasadena Educational Foundation wrapped up managing curbside volunteers for PUSD summer Grab & Go meals. We've been assisting PUSD since the first day of curbside meal service on March 17, 2020. And PUSD Superintendent Brian McDonald asked PEF to help in a bigger way during this final week… by providing additional volunteers for every site.
PEF reached out to our trusted community partners to meet this added need: the City of Pasadena, Young & Healthy, Pasadena-Foothill Area Realtors Association, First District PTA, Collaborate Pasadena, and CalTech. We knew we could count them and they did not disappoint. Together we enabled PUSD food service heroes to get well-deserved rest and return to prepare every kitchen for expanded meal service which began on the first day of school.
Over the last five months, our volunteers have served over 662,000 breakfasts and lunches alongside food service staff. Our volunteers logged over 2,000 hours in the rain, sun, and heat to make sure families in our community did not go hungry. Friendships were formed and a lot of goodwill was shared.
Pasadena Educational Foundation extends a heartfelt thank you to our partners and all of the volunteers who served meals with us. You demonstrated the power of collaboration and the good work that comes from being generous of spirit. By stepping up to serve, our community is a better place for all of us.
THANK YOU!