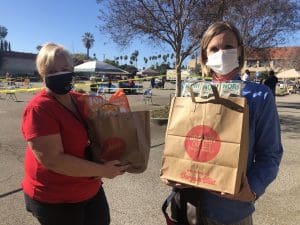 Thank you to the Altadena Grocery Outlet for supporting Pasadena Unified School District staff Covid-19 vaccination clinics!
"Many of our customers' children attend Pasadena Unified School District schools, especially Eliot Arts." said owner Michell Guajardo. "We're happy to do what we can to help get the kids back on campus. We miss seeing them."
PUSD began vaccinating staff yesterday in the effort to reopen school campuses as soon as possible, given the state's regional COVID-19 infection rate guidelines. Staff vaccinations will take weeks, due to vaccine availability and remote-learning schedules. These staff-only clinics will be held on Thursdays and Fridays through March.
To support PUSD's efforts, Altadena Grocery Outlet donated snacks for clinic workers this week. A business neighbor of Eliot Arts Middle School, owners Marco and Michell Guajardo were quick to offer to help. In fact, they have aided the efforts of Eliot Arts Middle School since they first opened their store in December 2018.
"Grocery Outlet in Altadena has been a champion supporter of Eliot Arts! They have provided teacher incentives, school-wide donations, and this school year their help was instrumental in making sure our drive-through text book distribution was successful for distance learning with their donation of bags and boxes. I cannot say enough about how generous Marco and Michell are," says Lori Touloumian, Principal of Eliot Arts Middle School. "They have hearts of gold and never hesitate to assist in any way they can. We are forever grateful for their amazing support!"
Partners like Altadena Grocery Outlet are more than simply good PUSD neighbors, they offer direct support for our students and their families.
If you'd like to partner to support your public schools, contact Nancy Carol Inguanzo at ncinguanzo@pasedfoundation.org.