Ray Joiner CHESS Tournament
What an amazing day! Thank you to all our chess players, families, volunteers, and friends for making our first chess tournament such a phenomenal success. The spirit of volunteerism, joy of friendship, and sounds of fun & friendly competition were everywhere – both inside and outside the chess competition room.
Congratulations to all who participated and to our medalists!
See our 2019 medalists here.

Novice:     No "castling", "en passant", "touch move" rules. Adult monitors may assist/adjust the game pieces to resolve any extended "in-check" scenarios to allow game-play to continue. Games will use a 40-minute running clock for the entire game.
Advanced:     Competitive play that includes "castling", "en passant", and all competitive chess rules. This will NOT be "touch-move." Players CAN touch a piece, then if not moved, release it and play another piece.  Players should be able to negotiate their own solutions to game play complications. Games will use a 40-minute running clock for the entire game.
Elite:      Competitive play rules with no age restrictions. This is a "touch-move" division where once a piece is touched, it must be played.  Players will use a chess clock where each player has 15 minutes of play time. if one of the players runs out of time, that qualifies as a loss.
Once committed to a tournament, a player needs to show up, or let the tournament organizer know ahead of time if you must cancel. A no-show of any player leaves another player without an opponent in the first round.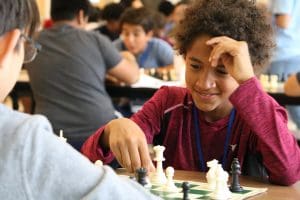 Chess – For the Fun of It!
Recently, a few of us lucky, fun-forgetting adults were privileged to spend the day with an exceptional group of students. Together we celebrated the joy of a game of checks and boxes – chess!  While there were plenty to do's to be done to make the 2019 Ray Joiner Chess Tournament happen, the laughter and learning made it worth every checkmate. It was a really good time.
Nancy Carol Inguanzo
What do chess and volunteerism have in common? 
Fifteen years ago, a man named Ray Joiner began volunteering as a chess teacher in PUSD and in PEF's Summer Enrichment Program.
The relationships he formed with his elementary and middle school students not only transformed them into passionate chess players, but into chess volunteers themselves. Year after year, his students returned to pass on their love of the game and the tradition of service to other students.
Their passion inspired us to expand youth service into all our summer classes. Today, through our Summer Volunteer Youth Leader program, nearly 200 teenagers from across the San Gabriel Valley experience the joy of giving service in the fields and subjects they care about.
It started with Ray Joiner, the game of chess, and a willingness to give.
Ray passed away last year. Please join us to thank Ray, celebrate his love of chess, and to honor his legacy of service.  Ray Joiner was our 2018 HALO Award Angel.
With support from a 2018 HALO Award from the Carl & Roberta Deutsch Foundation