Art saved my life, if you must know. Art history lifted me out of a dark immigrant's existence. I was eight months old when my father was run over by a train in Basingstoke. I never knew him. I couldn't speak any English till I was six. But I could look at paintings, at sculpture, at books full of pictures of beautiful things, at all the glorious art-historical evidence that survives from the story of humanity, and I could enjoy it and learn from it.
Waldemar Januszczak, art critic and historian
by Nancy Carol Inguanzo, Community Engagement and Volunteer Manager
One of the things I have been doing with my "unprecedented" time is watching Waldermar Januszczak documentaries about art. I love art in all forms. And binge-watching his art history shows feeds a piece of my soul that feels withered now. I miss going to one of the many world-class museums within our striking distance to see a new exhibit or view a much-loved masterpiece. It's as if when the doors open, the very air from within fills me with humanity. I always take a deep inhale upon entering.
Like most kids, the first time I was officially introduced to art – as a th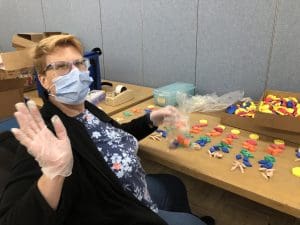 ing to do and enjoy – was in a school classroom. I have fond memories of the waxy smell of a new pack of crayons and the crisp feel of a fresh sheet of paper between my fingers. Children naturally enjoy the way paint blends and moves.
Art supported my education in ways I didn't comprehend as a child but can appreciate as an adult and especially as a parent. It's a primary way for students to develop the four C's — communication, collaboration, critical thinking, and creativity. Art is an instrument for so much more than what can be seen.
PUSD Arts understands this.
That's why it made sure all PUSD elementary school students had access to art materials to enjoy in their unprecedented time of distance learning.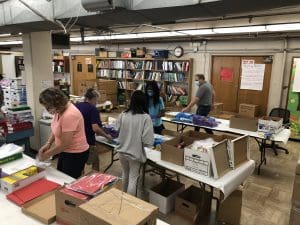 Pasadena Educational Foundation volunteers, supported by referrals from Young & Healthy and alongside district warehouse staff, came together for five full days of packing art supplies for 7,000 PUSD elementary students.
There were pallets of markers, watercolors, oil pastels, and paper. And oh yes, there were crayons – hundreds and hundreds of pristine boxes of crayons! It was mundane but meaningful work… ensuring our elementary students could explore their creativity and express themselves in ways no one else can.
[Art was] doing what it always does… imagining the unimaginable and inventing things… expressing its emotions and describing its fears… enjoying itself and breaking the rules.
Waldermar Januszczak in Renaissance Unchained