"Recently, I was on a school tour as a PUSD Certified agent, where I met a couple who really liked the school. Then, I saw them again at an Open House, and they subsequently asked me to represent them n purchasing a new home in the area."
– Pilar Oliva, PFAR Member, PUSD Certified REALTOR
Pasadena Area Real Estate Agents!
Are you ready to take your Real Estate career to the next level? Get PUSD Certified and become that skilled REALTOR/Agent that your clients will rave about.
Pasadena-Foothills Association of REALTORS®, PEN, and the Pasadena Educational Foundation offer PUSD Realtor Certification Courses that provide local real estate agents with tools and school information to better serve their clients and their community. Courses are only offered twice per year and fill up fast.
Upcoming Course:
Friday, April 21, 2023
9 AM-12 PM
Altadena Arts Magnet
Breakfast included courtesy of Danny Nashua,
Cohen Financial, and Corner Bakery
Members: $49 | Non-Members: $59
Non-Members should call our office at 626-795-2455 to register.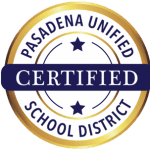 The award-winning and nationally acclaimed course teaches agents about PUSD's innovative programs, provides school tours, and helps agents discover the many educational opportunities available to families in our area and those looking to move into our area.
Join the growing list of agents who are PUSD Certified. After taking this course, real estate agents will earn the PUSD distinction, which makes them a certified public school expert in Pasadena and be included in the certified agents directory.
Take a look at the PUSD Certified Agents Directory here.
To learn more about the program and its benefits, contact: Kanishia@pfar.org