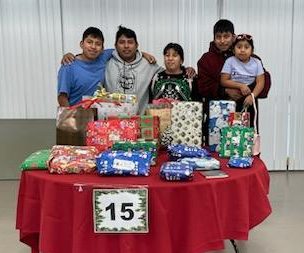 The holidays are the time of the year when we instinctively think of others. We volunteer our time. We consider who in our community may have less. And, most importantly, we give of ourselves.
Families in Transition (FIT) does just that. A program of the PUSD Student Wellness & Support Services Division, FIT helps students and families address the socioeconomic barriers to academic success like housing instability, food insecurity, lack of access to health and mental health services, recent immigration, and other challenges.
Families in Transition partnered with the Salvation Army to assist 228 PUSD families with holiday items including toys and gifts, wrapping paper, books, winter clothing items, and gift cards for meals. Additionally, 14 PUSD families participated in the Salvation Army's Adopt-A-Family program.
The partnership FIT has with The Salvation Army meant, for another holiday season, parents and caregivers were able to provide their children with gifts and groceries for the holidays. Without this program, most of our families would not be able to provide these things for their children. We receive pictures and thank you cards after the holiday season and it's one of our greatest joys to see how happy the families are with their items- even the smallest things bring such joy. It reminds us why we do what we do.Sarah Bernal, FIT Program Coordinator
Pasadena Educational Foundation (PEF) provides grant writing services for PUSD and raises private funds as well to support this vital work. The S. Mark Taper Foundation recently awarded PEF a $75,000 grant to fund critical services provided by Families in Transition. 
Here are just a few ways you can support FIT's efforts during the rest of the year:
PUSD families affected by homelessness are invited to do their laundry at the FIT office, so laundry supplies are always needed. Detergent, fabric softener, and dryer sheets can be donated along with drying racks. 

Donate your gently used goods – household and clothing items – to the

ACTS Thrift Store

at 1311 North Altadena Drive in Pasadena on behalf of the Families in Transition program. Shopping vouchers are given to FIT families based on the value of your donation.

Donate school supplies to FIT. These supplies are dispersed to families so students have the items they need to complete their homework.

Finally, you can

donate to Pasadena Educational Foundation to support Families in Transition

. Your gift will go directly towards helping families transition out of homelessness and assisting students with additional emotional and educational support.

Please be sure to write Families in Transition in the box on the donation form.
To donate items and/or learn more about how you can support Families in Transition, contact Sarah Bernal, FIT Program Coordinator, at bernal.sarah@pusd.us or 626-720-2476.