We are back after a 2 year hiatus!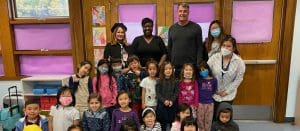 Pasadena Educational Foundation celebrated our 15th annual Principal for a Day event with 29 extraordinary community members serving as guest principals at each of our unique Pasadena Unified School District campuses.
Principal for a Day helps engage our community with our schools by inviting community business and civic leaders to spend a morning with a school principal, giving them a rare and valuable perspective of running a public school.
Great schools don't just happen; it takes a community dedication to education to make a difference. Through Principal for a Day, PEF has now involved almost 500 community members and helped build lasting relationships between the schools, businesses, and the wider community.
Each of our guest principals had a unique and powerful experience as they learned about the opportunities, challenges, achievements, and importance of our public schools.
The morning event was followed by a luncheon with guest speaker documentary filmmaker Pablo Mirales. During the luncheon participants shared their diverse experiences. [Click here for a full list of guest principals]
Interested in becoming a Pasadena Unified Principal for a Day? Contact Tony Gordo at 626.396.3625 or via email at tgordo@pasedfoundation.org