TIAA is happy to support the students and teachers in the Pasadena Unified School District. We know that the last year and a half has been challenging for students and we are proud to be a part of this School Supply Drive.

Maria Khader-Karp, TIAA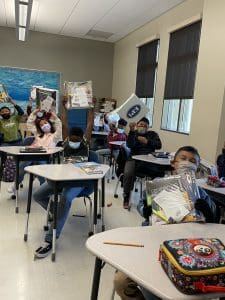 PEF is grateful to join forces with partners and give back to our community. To start the season of giving, employees from TIAA, TIAA bank, and nuveen™ donated more than 1,300 school supplies, and TIAA matched their gifts for a total of more than 2,600 items to students at Washington Elementary STEM Magnet. After 15 months of distance learning students attending school in-person were pleasantly surprised with new school supplies.
Thank you to the TIAA Pasadena office's Corporate Social Responsibility Team for once again supporting the Pasadena Educational Foundation. Donated items include rulers, facial tissue, backpacks, pencils, general student supply kits, and teacher supply kits.
Find out more about the many ways TIAA supports the community here:
https://www.tiaa.org/public/about-tiaa/corporate-social-responsibility