"Kids are constantly told that education is important; so when they see others caring for them in a variety of ways, from their therapists to their counselors, and realize there are people who see their struggles and want to help, the sum of that really helps them carry forward."

Nancy Scott
Pasadena Unified School District counselor Karen Favor has been at Blair High School almost since she started working for the district in 1983. She's been a involved in all aspects of the school, not just as a counselor, but also serving as a member of the suicide prevention team, among many other roles. She and her sister, Lisa Test, have dedicated their lives to the educational field—Ms. Test is an occupational therapist for the Los Angeles Unified School District. Over the years of listening to her daughters' stories, mother Nancy Scott has developed a vested interest in her daughters' passions, donating what she can to both her daughters' schools districts now that she is in the position to be able to give back.
Ms. Scott grew up in the Depression Era: not the most privileged of circumstances. She changed schools constantly, and the only school she was able to stay at for a significant period of time was her high school, Berkeley High School. This erratic education, as well as a lack of funds, hindered her ability to pursue her dream of becoming a doctor.
With both daughters working in education, she lives vicariously through their experiences in the field. Ms. Scott muses, "Karen would share Blair with me constantly, and I found that Blair High School had so many qualities of my Berkeley High School." She was excited to hear of the diversity of students and their achievements through Mrs. Favor, of the obstacles that the students had overcome and their dedication to their communities.
When she was growing up, Ms. Scott was so poor that she would put cardboard in her shoes when they wore through to try and extend their use just a little bit longer. The year she gave her first scholarship at Blair, seeing the tangible proof of her ability to empower other young students brought tears to her eyes—and still does.
Although she gave her first Blair scholarship in 2014, she still struggles to choose students, reading over hopeful students' essays and calling Mrs. Favor "about 18,000 times!" While transcripts and financial outlook are factors in scholarship recipiency, Scott asks students to write her essays about their relationship with their community as well as their goals and aspirations for the future.
Her most recent donation of $75,689 was made on November 23, 2020 and will fund two scholarships a year to graduating seniors from Blair High School who exemplify scholarship, community involvement, and the commitment to give back to the community upon graduation. Ms. Scott hopes that the scholarships will let students know that "someone else cares about them and their journey."
---
The 2021 recipient of the Nancy Scott Scholarship for Blair High School is:
Chanler Saucier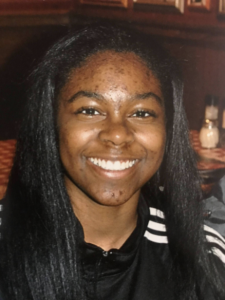 Chanler is an exceptional student who earned the International Baccalaureate Career Program (IBCP) Diploma and also completed the requirements for the Health Careers Pathway. Chanler participated in a Summer Research Program at California Institute of Technology for her IBCP Reflective Project, "Debunking Myths about Vaccines," for which she embarked upon a deep study of vaccines. For her IBCP Service Learning Project, she launched a website providing information on how to safely stay healthy and active during COVID-19. Outside of the IB program, Chanler was also a member of the National Honors Society as well as Blair's instrumental and jazz band.
Congratulations, Chanler! We can't wait to see what you accomplish in the years to come!
---
PEF has distributed nearly $80,000 in the past few years in scholarships to graduating seniors on behalf of individuals, organizations, and foundations. Scholarships can be specific to a field of study such as STEM or art, needs-based, or for academic achievements.
https://pasedfoundation.org/our-work/grants-awards/scholarships/