The 2021 PEF Summer Enrichment Program was a summer like no other!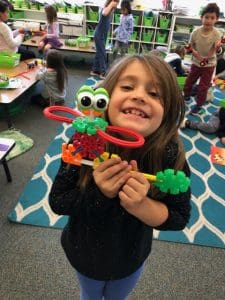 For our 18th year of offering the program we were able to offer in-person programming once again. While this year might have looked a bit different, it was still filled with opportunities to create, grow, and connect in energetic and engaging ways. The program ran from June 14 – July 15, offering classes to students in kindergarten through 12th grade, as well as volunteer and leadership opportunities for high school students. We successfully enrolled nearly 1,000 students in 65 unique classes at 6 campuses.
For the first time, we were able to offer the program free of charge, thanks to support from PUSD's, Expanded Learning Opportunity Grant, while also reaching even more students in need of summer learning. Participation was limited to only PUSD students, which allowed us to continue our mission of supporting students in our district.
Thanks to our students, families, teachers, staff, and volunteers who make our program magic every year. We look forward to seeing you all next year.
Not surprisingly, there were many more complexities in running an in-person program than in prior years as we needed to work within an evolving set of PUSD and Pasadena Health Department COVID-19 guidelines.
At the end of our program, we were pleased to hear so many wonderful anonymous comments from parents, such as this one:

This program exceeded all of my expectations! It was very organized, and each day was incredible. My daughter did such fun and creative projects every single day. She loved it!!!
PEF Summer Parent
Students were having a blast learning too! One student reminded us with this comment:

I love my teacher and my favorite part is that I learned to write better. I just love learning math!
PEF Summer Student
With the school year well on its way, PEF is back at it, working to plan another wonderful summer for the 2022 year. Keep an eye out for our program launch year next year, and we hope you will consider joining in the fun of summer learning.
---
While we couldn't have our families on campus for Open House this year,
we created some Virtual Open House videos for you to enjoy.
You can watch them all here.