"I came to PEF when everything shut down… I was looking for another way to support the public school community and do something purposeful."
– Ann Lange
Ann Lange moved to Pasadena with her husband in December of 2019 from Milwaukee, Wisconsin. A mother of three and a grandmother of two, Ann has a history of working in children's education. She was a first grade public school teacher until becoming a stay-at-home mom. "I always wanted to be a teacher. My favorite part of teaching was being with the kids – getting to experience their imaginations and creativity." Ann also worked with an autistic student as a special needs assistant, as a children's bookseller, and led storytime at a Barnes & Noble.
Volunteers who know the importance of a great education are the backbone of those who serve with Pasadena Educational Foundation. "I have always volunteered for my local schools." Ann says. "I started as a parent. It's important to be involved."
Since her first day of volunteering with PEF back in April of 2020, Ann has helped support Pasadena Unified School District by serving curbside meals at her neighborhood school – McKinley Elementary, assembling learning materials, and assisting with passing out fresh produce to area families.
Most recently, Ann volunteered to read to a Washington Elementary class for Read Across Pasadena 2021. "Reading online to students was challenging," Ann said of her experience. "Teachers are superheroes. Hope the kiddos can get back in the classroom soon."
At last count, Ann has served over 115 hours for our school community! Her help has been invaluable. And she's done it all with grace and team spirit.
Thank you, Super Volunteer Ann Lange! Volunteers like you make a difference.
By Nancy Carol Inguanzo, PEF Community Engagement Manager
---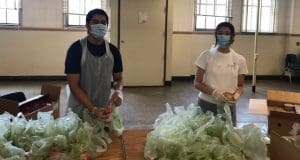 ---