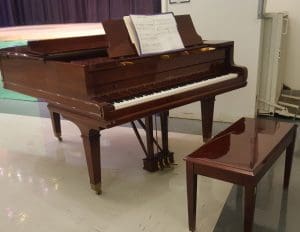 "Thanks to the generous gift from Ms. Leslie Zasa of a beautiful looking and sounding baby grand piano, Altadena Arts Magnet is able to accompany their musical shows in true artistic style. From guest pianists to our own teachers, this piano is lovingly played and enjoyed by the entire Altadena Arts community.

As one of three schools in PUSD to receive a multi-million dollar federal arts magnet grant, Altadena can fully implement its arts theme by adding Ms. Zasa's piano gift to our campus. The children, teachers and staff are so very grateful!"

–Benita Sheckel, Principal Altadena Arts Magnet
Every Gift to PEF Has a Story.
Gifts that bring more music education resources into our schools, like Ms. Zasa's wonderful piano, are one of the many meaningful ways our community can support PEF and our Pasadena Unified School District schools. If you are interested in finding out ways you can contribute to our schools you can find out more here or contact Angela Parris at aparris@pasedfoundation.org or 626.396.3625
About Altadena Arts Magnet
At Altadena Arts Magnet and French Dual Language elementary school, students develop confidence, strength, discipline, and creativity through weekly visual and performing arts classes. Weekly instruction in all art forms provided in partnership with Education Through Music -Los Angeles (ETM-LA), AMAN Dance Educators, Lineage Dance, and more.
The goal of French DLIP is for students to become bilingual, bi-literate, bi-cognitive, culturally sensitive learners. Their skills and expanded worldview will prepare them for success in a dynamic, competitive global society.
You can find out more about Altadena Arts Magnet or schedule a tour here.