Thank you to Keith and Margaret Russell for their generous endowment gift of $500,000 to the Pasadena Educational Foundation. Their gift is the largest endowment gift in PEF's history and will be given out over a 10-year period.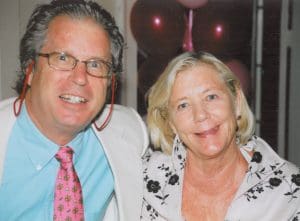 The Russells are long-time supporters of PEF and our PUSD schools. In 2002 they came to PEF with an idea they developed called "Making Teachers Smile". Margaret, an educator who worked as both a first grade teacher and principal in Hancock Park, CA, had been inspired by an article she read in Fortune Magazine about a program that rewarded teachers.  PEF's former Executive Director, Joan Faurve, and current Development Director, Angela Parris, jumped at the idea immediately.
So, with enthusiastic support from PEF, the "Making Teachers Smile" program was up and running. From 2002-2007 "Making Teachers Smile" granted wish-experiences to PEF teachers.
Wishes fulfilled included unique experiences like:
Visits to national landmarks in Washington DC.
Computer Using Educators Summer Institute Boot camp in Maui
Leading the trip with students in Spain
Travel to Gettysburg for US History
Travel to Austria to visit famous Opera Houses
In 2007, the Russells began living part-time in Hawaii and tried to replicate the program for their local teachers. While it was ultimately successful they found it much more challenging to get off the ground without the support and guidance of an organization like PEF. "PEF was the critical path to getting our program up and running," said Keith Russell. "We have always been tremendously impressed by the Pasadena Educational Foundation's enthusiasm, professionalism, and impact on our community." The Russells are making their endowment gift in honor of Joan Fauvre.
The endowment gift is part of Countrywide Bank's Directors Charitable Giving program. Mr. Russell served for eight years on the Board of Directors of Countrywide, which is now part of Bank of America.
"As PEF approaches our 50th year of supporting our PUSD schools, this generous gift will help ensure our ability to continue to provide essential resources and enrichment opportunities to every student, at every day, every school," said PEF Executive Director Patrick Conyers. "We are tremendously grateful to Keith and Margaret for their commitment to PEF and our community.
The Russells' generosity allows PEF to continue our mission to support, enhance, and supplement the programs, initiatives and priorities of the PUSD.