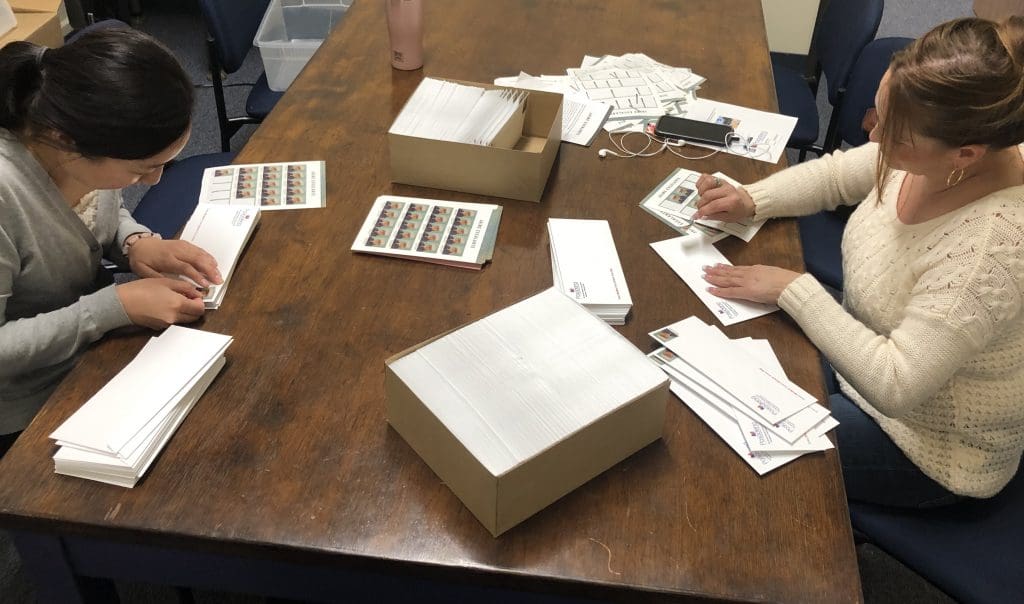 Volunteer to help PEF behind the scenes!
Duties vary per the volunteer event.
Sometimes we need assistance with mailings: stamping envelopes, printing and sorting materials, and assembling packets. Other times we need help with research for grants.  And still others we need volunteers to help us prepare for special events. All of this volunteer help is pretty straightforward, but essential to our ability to do all that we do for our public schools – from offering teacher grants to expanding and enhancing key education initiatives.
Please feel free to bring your earphones to listen to an audio book or music while you help.
WHERE:
Pasadena Educational Foundation
351 S. Hudson Avenue, Room 153
Pasadena, CA 91101
CURRENT OPPORTUNITIES:
We are seeking volunteers to help us prepare fall fundraising mailings. Two hour shifts are available.
Please see the events titled PEF Office – Mailings in our volunteer calendar on this page to learn more and sign up. Dates and shifts available from Monday, October 24 – Friday, October 28.
A strong work ethic and attention to detail is requested.
Safety Protocols:
• High school and college students may volunteer to earn graduation service credits.
• Volunteers will work inside in our office. Our office is equipped with district-issued air purifiers.
• Please wear your own mask.
If you cannot make your shift, please let us know. Never volunteer if you are not feeling well. Cancel your shift.
Questions? Contact NC Inguanzo, Community Engagement & Volunteer Manager, at ncinguanzo@pasedfoundation.org.
Sign up to Volunteer
Adults view our Indemnity Waiver, Medical and Photo Release.
NOTE: All those who volunteer agree to our standard Indemnity Waiver, Medical and Photo Release by default.
Please make sure you have read the release before you commit to serve.
CLICK ON AN EVENT BELOW TO SIGN UP: