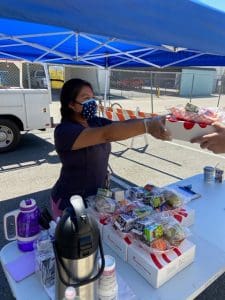 By Nancy Carol Inguanzo | PEF Volunteer & Engagement Manager
Most of us are staying at home and cooking more, much more than we may like…. me included. Dishpan, "wash your hands" hands… are not a good look, but at least no one is around to see them. And yet, I know they are a red badge of privilege.
PUSD Food Services has served almost 100,000 meals to area families. What's more, did you know PUSD has been serving meals to the homeless, too? They are doing whatever they can to lend a hand to the Pasadena community.
Recently our local Chick-Fil-A approached PUSD Food Services to donate 150 meals. How to best use this donation? Food Services decided to hand those meals to those who rarely get a hot meal… homeless seniors. It was deeply appreciated.
Helping hands… are the ultimate good look. It's just the kind of vanity we all should embrace.
Thank you, PUSD Food Services and Chick-fil-A. Our hands salute you!