High School Students
Explore career paths, prepare for college, and acquire important life skills this summer!
High School students can learn new skills, have fun, explore career paths, and share their talents by taking one of our classes or by volunteering in a class mentoring younger students.
Volunteers receive a 10% discount on high school classes.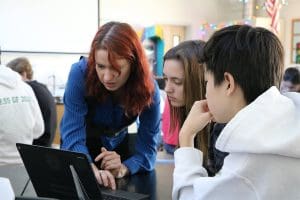 High School Classes
Choose from one or two week classes including music recording, clothing design, art studio, financial literacy, college prep, and more.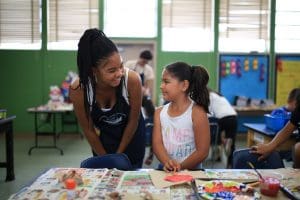 Youth Leader Volunteers
Expand your leadership skills while you mentor younger students in our K-8 Summer Enrichment Program classes. Choose from more than 100 classes that need your help (from visual art to robotics.)
2020 HIGH SCHOOL SUMMER CLASSES
Location: Sierra Madre Middle School 9am-12pm (M-Th)
$150 per session
Exact classes for 2020 have yet to be determined. However here is a list of classes offered last summer (2019) for general reference:
Caregiver Know-How
Become certified in water safety, CPR, child care, and pet sitting all in one class! If you've ever thought about starting a babysitting business or working in a childcare setting, this is a great place to start. Students will receive pediatric CPR/FA from The American Heart Association, and a Babysitter's Training Handbook from the American Red Cross. Grades 9-12 | Jeanie Edwards 
Clothing Design
Learn the process of creating garments from start to finish! Taking inspiration from popular brands such as Nike, Channel, and Christian Dior, students will begin to imagine their ideas by sketching garments through a variety of techniques, adding details and patterns to their design. Students will then finish off their designs by creating their own garments using sewing machines. Along the way students will explore the many career avenues that the fashion industry has to offer. Grades 9-12 | Corrie Osuna 
Financial Literacy
This course is designed to teach students the fundamentals of personal finance. Students will learn about creating a budget, taking out a loan, and making good financial decisions. In addition to personal finance, students will gain a general understanding of how taxes and the stock market work. Students will research career paths, and class will culminate with a student mock budget. Grades 9-12 | Cletus Ganschow 
Fitness for Life
Learn about the fitness industry while getting fit yourself! This class will provide knowledge of physical fitness concepts through an understanding of the influence that lifestyle has on health and fitness with the goal of developing healthy habits for an optimal level of fitness. Grades 9-12 | Tamar Vega 
Intro to Esthetics & Cosmetology
Come explore careers in the beauty industry. This class provides an inside look at working as a make-up artist, hair stylist, lash artist or esthetician. Learn a few key business skills to "make it" in the business or even open your own salon one day. Class taught by a licensed professional. Grades 9-12 | Vanessa Manel 
Leadership 101
Who are the leaders you admire, and how does change happen? These are questions that will be addressed in this introduction to leadership class. Topics including self-branding, mentorship, and personal goal setting. Grades 9-12 |Brian Biery 
Music Technology and Recording
Come learn about the music industry from the pros at the California College of Music. Week one will focus on song ideas and introduction to Apple Logic Pro, while week 2 takes your creations into the recording studio for a more finished product. No instruments or prior experience needed, just a love of music. Location: Off-site, California College of Music. Grades 9-12 |David Bawiec, B.M. – Music Technology & George Wiederkehr, M.A. – Studio Recording 
Open Art Studio
Located in Eliot's Room 13, this class will allow students to explore a variety of art materials with the guidance of a professional Teaching Artist. In addition to practicing techniques, this class will also address careers in the arts and possible avenues after high school. Grades 9-12 |TBD 
Personal Statements for College
This two-week course teaches how to choose effective topics for and write compelling responses to college entrance essay prompts. Students will write working drafts for four UC Personal Insight Questions, one Common Application essay for private and out-of-state colleges, and at least one Supplemental essay for a college of their choice. Students will also curate a college list of "right fit" colleges. Grades 11-12 | CAP Staff 
Preparing for the SAT
College Access Plan's summer SAT course provides test-prep instruction and materials catered to student needs. Students will receive preparation in SAT subject areas and take full-length practice tests. They will also receive curriculum focused on the college application process ranging from personalized test instruction and exercises, to college list curation and personal statement writing. Grades 10-12 | CAP Staff
"Our family has participated in PEF two years in a row now.

The teachers are top notch and work really hard to make it fun and engaging."
Received Tuition Assistance
Classes to choose from in 4 Languages
Coming Back!

"Absolutely coming back. I love having a morning-only program for the kids, where they can learn, but have a choice of fun, different interesting classes and the new afternoon option is fantastic for us working parents."

So Much Fun!

"She has so much fun and it keeps her brain working over the summer.  We love the mix of fun and academic skill building, that they get to try three different things rather than a single focus, and the whole program is offered at a great price. Absolutely will come again next year."

The mix of classes is exciting!

My daughter gets bored during the summer and there were so many fun options. She's already planning what classes she would like to take next year."