Story courtesy Coloradoboulevard.net
By Nancy Carol Inguanzo and Monica Lopez
These efforts have been supported by Pasadena Educational Foundation (PEF) which connected nursing students from area colleges, including Azusa Pacific University and West Coast University, to volunteer alongside district staff. "It's an honor to volunteer at the PUSD vaccine clinics. It's amazing to see children take the step to protect themselves and their loved ones. Definitely, an experience to remember," said Leticia Naranjo, a 2014 Marshall High School graduate who is currently a registered nurse student at West Coast University.
The need for COVID testing and vaccinations has reached its highest levels since the pandemic began in March 2020, and our public school nurses continue to be on the front lines. "Not only do our nursing students gain valuable experience and earn service credit for volunteering at these clinics, but putting their skills to work for the safety of our community in times like these is immeasurable," said Dr. Carol Ann Friedman, Associate Professor of Nursing at Azusa Pacific University.
two women and a child at registration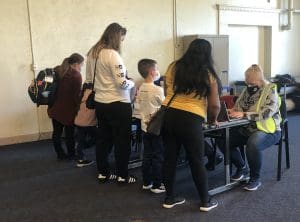 "We want to continue to do all we can to help PUSD keep our families healthy and safe," says Felita Kealing, PEF Board President. "To their credit, our families take their responsibilities to our community seriously. They have been quick to adopt the latest strategies and to get tested. We are thankful for their diligence and for their graciousness to PUSD staff. They understand Health Services staff have gone above and beyond to meet the recent demand."
Drive-through testing is held every Monday (excluding holidays) at district headquarters, mobile testing clinics are conducted daily on a rotating schedule of PUSD schools, and vaccine clinics are scheduled and co-sponsored with the Pasadena Public Health Department.
For all of the latest information on PUSD COVID-19 Updates, go to pusd.us/backtoschool.
Nancy Carol "NC" Inguanzo, PEF Community Engagement & Volunteer Manager.
Monica Bosserman Lopez, PEF Marketing Director.