by Sehba Sarwar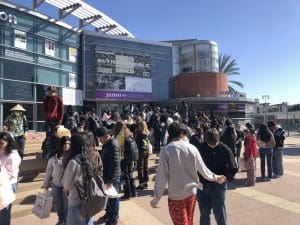 In late January 2023, three weeks before the eightieth anniversary of US President Franklin Roosevelt's Executive Order 9066, 250 students from all five Pasadena Unified high schools boarded school buses – over a span of three days – to explore Little Tokyo and participate in guided tours of the Japanese American National Museum (JANM). Roosevelt's Order 9066 led to the incarceration of 120,000 Japanese Americans in camps throughout the US.
The field trips were part of the California Civil Liberties Program that PUSD started in fall 2022 after Pasadena Educational Foundation was awarded a grant from the California State Library. Prior to being introduced to the project, most of the participating students did not know about the racism and hysteria that enabled the US government to force Japanese American families out of their homes to incarcerate them. At Manzanar, just five hours north of Los Angeles, 10,000 Japanese Americans were imprisoned, while closer to Pasadena, the Santa Anita Racetrack was the largest and longest occupied of the temporary Wartime Civil Control Administration (WCCA) camps where 8,500 Japanese Americans were held in converted horse stalls.
PUSD student responses after their field trip to Little Tokyo and the Japanese American National Museum
"To be completely honest, I did not know a lot about the history of the Executive Order [9066], and how they lived during those times. But I think it was a really good experience to see first-hand from people that were there and from the relatives [of survivors], so they could explain to us about how hard it was for them to get through that time…"
—Diego, Blair Middle School
"I had already known pretty much most things about the [Japanese American concentration] camps because my grandmother was interned at those camps… "
—Leo, Pasadena High School
"The worst thing I would say about the government separating the families is that a lot of kids were probably stuck by themselves and were so lost and confused about what was going on and had no idea why they were in trouble or anything… They were probably wondering why they can't enjoy life the same as every other person here. "
—Angel, Rose City High School
Majority of the students had not visited either the neighborhood or the museum before, and every student that I interviewed said that they would like to return to Little Tokyo and that they wanted to continue learning more about the Japanese American experiences. Andrew at John Muir High School, said, "It was great to get to explore and … learn new things about someone else's culture. And then we went to the museum – it was a great experience."
Later this spring, the project will culminate with participating students creating presentations that will connect contemporary issues to the treatment that Japanese Americans experienced during – and beyond – World War Two. In the post-field trip interviews that I conducted with some students, many connected the imprisonment of Japanese Americans to the US government's current treatment of migrants and refugees at the US-Mexico border. Sydney from Blair Middle School, said: "When I think about the Mexican American border problem and the children being put in the cages, I feel sick. I feel dread. How could you treat someone so young who … didn't do anything wrong like a criminal or like an animal? Their parents wanted their children's safety and [crossed the border] for a better job … like my grandma [who] came from Nicaragua for better career options because of the earthquakes."
And after watching JANM's documentary, 9066 to 9/11, that draws parallels between the post-September 11 treatment of Arab Americans to the racism that Japanese Americans experienced, Danielle from Marshall Fundamental said: "It was a good reminder …[the] documentary really took out all the things out of the shadows and [showed] what Asian people went through."
Azucena, a Pasadena High School student, commented: "It's good that people are learning about …. the overall history of how people of color have been discriminated throughout the years. And I think it's good that we're starting to bring it to light instead of just kind of pushing it aside and acting like it didn't happen…"
The seven teachers who are participating in the project are: Jesus Cobian and Elizabeth Najera (Blair Middle School); Bertha Aguilar and Mayte Hernandez (Pasadena High School); Devette Johnson (Marshall Fundamental); Cuauhtemoc Mauricio (John Muir High School); and Ngozi Ezieme (Rose City High School). The subjects that they teach vary from Spanish dual language immersion, history, English, graphic arts, and photography.
Bertha Aguilar and Mayte Hernandez who teach graphic arts and English respectively, are collaborating with each other to reach more than 100 ninth graders, who will write stories and create comics. Aguilar commented that field trips are critical to the teaching process because the experience helps "students learn more about their city," and they are "able to see the past in the present."
"I wasn't very aware of the Japanese concentration camps, so I learned with the students," Mayte Hernandez added. "I think it's important to learn about issues that happen in our neighborhood, and this is really relevant."
Photos feature PHS students at the Japanese American National Museum where they explore the Common Ground exhibition; earlier in the day, Little Tokyo tours experts Linda Machida, Taiji Miyagawa, Ken Hayashi, Wataru Ebihara, Dan Okada, Esme Grundy, Kathy Masaoka, and Kristin Fukushima led tours for the students; photos by Monica Lopez and Sehba Sarwar
---
Sehba Sarwar is a novelist (Black Wings, Veliz Books 2019) whose short stories have been anthologized by Feminist Press, Akashic Books, and Harper Collins India, while her essays have appeared in the New York Times, Callaloo, LA Times and elsewhere. She serves as Student Engagement Manager at Pasadena Educational Foundation and facilitates Pasadena Unified School District High School Leadership Think Tank.